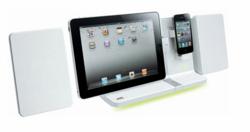 Sydney, Australia (PRWEB) August 16, 2011
A sleek new range of audio docks for Apple's iPad®, iPhone® and iPod® is hitting the shelves in August thanks to JVC. Available from authorized JVC retailers for $329 (RRP) and $369 (RRP) respectively, the UX-VJ3 and UX-VJ5 are stylish and slim systems that would look great in any home. They comprise a vertical center unit and a pair of speakers and can connect and charge an iPad and iPhone or iPod, side-by-side.
The VJ series create a smart place for holding an iPad, iPhone or iPod at home – an all-in-one center for listening, viewing, reading and charging. The VJ series from JVC is the perfect combination of iPod, iPhone and iPad accessories for all your Apple devices. The units come with a remote control for complete relaxation and when connected via the video output whilst playing movies, the surround sound effect brings the action onto your TV screen in the lounge room.
When not in use, the docking mechanism is out of sight leaving an eye-pleasing, streamlined look. Even better, an iPhone/iPod can be docked horizontally to catch some video. Soft illumination at the base of the unit gives an amazing floating illusion. The UX-VJ5 also offers a CD player for listening pleasure without limitations as well as USB music recording.
The sleek center unit holds a USB Host, PC Input and an FM/AM Tuner. The systems include a video output for connecting your iPad/iPhone/iPod to a larger screen and an audio input as well for other sources. For more personal preference to match your interior décor, the UX-VJ5 comes in white or black and the UX-VJ3 is available in white.
Pricing and availability
UX-VJ3-W (white)
RRP: $329
UX-VJ5-W (white)
UX-VJ5-B (black)
RRP: $369
The UX-VJ3 and UX-VJ5 are available from August from authorized JVC retailers (please see PDF attachment for specifications/features).
About JVC
JVC (Victor Company of Japan, Limited) is a leading international electronics company that has advanced audio and video technology and hardware. JVC engages in visual such as camcorder, high definition projector, audio and entertainment business. Headquartered in Yokohama, Japan, JVC was founded in 1927.
About Hagemeyer Brands Australia
Hagemeyer Brands Australia is the exclusive Australian distributor for JVC. Established in 1946, Hagemeyer Brands Australia is a B2B marketer and the 'exclusive' manufactures representative of leading brand name consumer products from around the globe via dedicated sales and marketing teams to numerous retailers and outlets throughout Australia.
Hagemeyer Brands Australia Pty Ltd is part of the Rexel France Company.
###