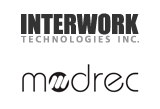 "Interwork has chosen Modrec to be a part of our new Higher Education Program that focuses on Security," said Ruby Brillantes, Director of Canada Sales.
Toronto, Ontario (PRWEB) August 16, 2011
Interwork Technologies, a premier Value Added Distributor for new and emerging Technologies, announced today its partnership with Modrec, one of Europe's most recognized manufactures and distributors in the Travel Lifestyle Industry, to distribute Laptop cases and backpacks under both the Modrec and Gino Ferrari brands in the Higher Education Market.
Modrec's product range consists of 6 backpacks ($49.99-$99.99), 5 casual messenger bags ($49.99-$79.99), 4 traditional business cases ($29.99-$99.99), a stylish ladies case ($49.99), 2 overnight rolling laptop cases (both $199.99) and three luggage carriers ($99.99-$149.99). Each laptop case is designed to fit either 13",16" or 17" laptop computer and includes generous user friendly compartments for stowing accessories. The feature-rich backpacks have adjustable padded shoulder straps, easy access pockets, and headphone ports for MP3 players. The three top loading business cases have trolley pass-through straps making them ideal for travel. The roller cases fit up to 17" laptop computers. All Modrec products are backed by a limited lifetime warranty.
"We are delighted to have signed an agreement with Interwork Technologies to become a partner for our products in Canada and the USA, it is a great endorsement of the value we deliver in offering the marketplace a better alternative solution," said John Steward Managing Director at Modrec. John continues "As part of Modrec's go to market strategy and as we continue to develop our market position, we want to ensure we have established the right distribution model with our top priority on making it as easy as possible for resellers to purchase our products".
"Interwork has chosen Modrec to be a part of our new Higher Education Program that focuses on Security. Modrec will be launched with a promotion entitled "Security in a Bag" where costs saving bundle packages have been developed with some of our existing Security Vendors. This is part of Interwork's dedication to going above and beyond to provide our Channel Partners with exceptional customer service," said Ruby Brillantes director of Canada Sales at Interwork.
This agreement strengthens Modrec's distribution footprint and support for its independent retailers, on-line dealers, the educational market; DMR's and value added resellers as well as broadens Interwork's product offering in the channel.
About Modrec International Ltd.
Modrec International Ltd is one of Europe's most recognized manufactures and distributors in the travel lifestyle industry. With a rich heritage that includes over a quarter of a century in business, Modrec has a proud tradition of developing innovative, high quality products that inspire the imagination.
For more information on Modrec, please visit the company's website http://www.modrec-na.com.
About Interwork Technologies Inc
Interwork Technologies Inc is a North American value-added distributor which specializes in data security, IP communications (VoIP) and storage solutions. Established in 1991, Interwork works closely with resellers to develop new business opportunities that will help them to grow into new markets. With offices in the USA and Canada, Interwork serves an extensive partner network of resellers and solution providers as an advisor in emerging technologies.
For more information, visit http://www.interwork.com.
###