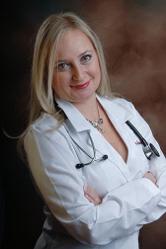 Dr.Gafanovich is the best. She is so warm and wonderful. She really takes the time to speak to her patients and is very detailed in her explanations.

Liza Morninerelli, New York NY
New York City, NY (PRWEB) August 17, 2011
New York Physician Dr. Marina Gafanovich is now accepting new patients and wants YOU to come in for an annual physical exam.
An annual physical exam is an important part of any health and wellness plan. Physical exams can provide early disease detection, as well as, help your physician monitor any chronic disease you may have such as hypertension or high blood pressure. The importance of annual physical checkups Shape Magazine recently listed having an annual physical check-up as their top Training Fitness Tip. Dr. Marina Gafanovich, a #1 ranked Internist in the City of New York, believes so strongly in disease prevention (versus disease treatment) that she is now accepting new patients and would like to encourage her new patients to start with an annual physical check-up.
"An ounce of prevention is worth a pound of cure," Dr. Gafanovich tells us with a large smile. "When it comes to diseases like cancer or heart disease most people don't realize that there is something wrong until the symptoms manifest themselves overtly, and then, it can be too late." Disease prevention is one of the main reasons that Dr. Gafanovich urges her patients (especially her female patients) to receive annual physical exams. As an Upper East Side doctor specializing in internal medicine she routinely comes into contact with women who are concerned about breast health. Ensuring breast health is a very important part of the check-up process. "It never hurts to have second opinions—or even third," she explains. "Breast cancer can progress very quickly. By having both a routine OBGYN exam and an annual physical checkup you are helping to mitigate the risks associated with allowing a potential lump to go unnoticed."
Most New York doctors are filled to capacity and no longer accepting new patients. Dr. Gafanovich is no stranger to a busy schedule, herself. She believes, however, that the rising rate of diseases like obesity, heart disease, and hypertension are too important to just sit by and do nothing. "If I have to work an extra half hour or hour each day," she explains, "so be it. I'd rather know that I'm doing my part." This work ethic and dedication to duty began as a young girl, and extended throughout her years of schooling at prestigious institutions like New York University and the Sackler School of Medicine. Her fierce determination and compassionate spirit are what led her to be selected as an attending physician at the Weill Cornell Medical Center, a "top 5" hospital in America.
"If insurance companies have come around to the importance of annual checkups," she jokes, "then you know they're important." Insurance companies are now recognizing the importance in preventative medicine to overall health. Even a disease that you are receiving treatment for, a disease like diabetes, can progress unnoticed or neglected because an individual believes his current medication has "covered it". Having an annual checkup can give you a touch point with your New York physician to discuss any symptoms you may have, even those that are slight or barely noticeable.
Dr. Marina Gafanovich wants to urge her current patients to make an appointment for a physical exam, and to encourage new patients to begin their relationship with her Manhattan physician practice by staring with a physical exam. "I cannot emphasize the importance of routine physical exams," Dr. Gafanovich tells us. "They provide so much value to the patient and the doctor. It lets us get to know our patient better and provide treatment and recommendations that are tailored to the lifestyle of our patient."
Disease prevention is an important part of a healthy lifestyle. More and more companies are making physical exams a part of pre-employment screening and/or give employees time off of work for wellness and screening programs. If your company has asked you to receive a physical exam, if you are planning to begin a weight loss program, new physical regimen, or just concerned about your own health and well-being, make an appointment with Dr. Gafanovich today.
Dr. Marina Gafanovich is a board certified internist practicing in the City of New York. She has attending privileges at both New York Hospital Weill Cornell Medical Center and at North Shore University Hospital. She has been ranked a #1 Internist in New York by prestigious consumer opinion organizations like "Health Grades", "Vitals", "Wellness", "Avvo", "CitySearch", and others.
Her office is located on 1550 York Avenue, New York NY 10028. She may be contacted by dialing: (212) 249-6218. http://www.mynycdoctor.com
###