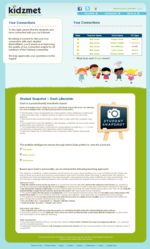 Kidzmet was recently recommended by Brett Larson of KillerApps.tv in his round-up of "best back to school tech that every parent should consider."
Santa Barbara, CA (PRWEB) August 16, 2011
Each school year, teachers have a new crop of students to get to know as quickly as possible. But names, faces and the past year's scores or behavior only paint a part of the picture for the teacher. In order to help tailor lesson plans and help personalize learning for struggling students most effectively, teachers also need to be able to quickly grasp how their new students' personality types, interests, strengths and cognitive styles have "wired" each of them to learn.
Kidzmet's new Classroom Account is an inexpensive way for teachers to learn how to best connect with students in ways that will engage and inspire them...before kids head back-to-school.
A Kidzmet Classroom Account costs $9.99 and is free for families. (PTAs and PTOs could effectively pay for the entire school to participate with a weekend car wash or bake sale.) Each family account must be set up by the parent and serves as the student's "permission slip" to complete the questionnaire...either at home or in the computer lab with the class. The questionnaire takes 10-15 minutes to complete and there are no right or wrong answers - the students just rate how much they enjoy each activity. The questionnaire is grounded in Piaget's 1965 experimental study and resulting book published in 1981, which concluded that affectivity—defined as "causing emotion or feeling"— plays the role of an energy source on which the functioning of intelligence depends.
The resulting analysis encompasses preferred cognitive style, Meisgeier/Myers-Briggs personality type and multiple intelligence interest categories and give teaching approach recommendations based on well-respected and documented studies. Armed with this knowledge, teachers can help start each teacher-student relationship off on the right foot and personalize learning experiences for struggling pupils as needed in optimal ways.
About Kidzmet
Launched in Spring of 2011, Kidzmet.com weaves together personality type, multiple intelligences and cognitive style to help teachers understand their students' learning preferences so that they can connect better and faster.
Kidzmet's Pairing Portraits, Student Snapshots, Classroom Accounts and School Accounts can be used by parents, teachers, tutors, coaches and schools to affordably facilitate better teacher-student connections so that personalized learning can start from minute 1, leading to more engaged and motivated learners.
Kidzmet's Recipes for Success blog provides at-home learning activity recommendations that expose kids to different aspects of the whole child curriculum through the multiple intelligence lenses through which they most enjoy exploring the world.
Kidzmet was recently recognized by Brett Larson of KillerApps.tv as among the "best back to school tech that every parent should consider."
###