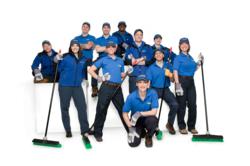 ...a company's best and brightest exposed to the nation as they (literally) sing its praises is a pretty good argument for investing in corporate culture.
Vancouver, BC (PRWEB) August 16, 2011
When you mention 1-800-GOT-JUNK?, people think of a few things; uniformed junk haulers, big blue trucks, maybe even hoarders. Chances are they don't immediately think of Broadway-style musical numbers. Or an international mustache growing effort, for that matter! But dig into the corporate culture, and it all begins to make sense.
This summer, the TV show Canada Sings! introduced that nation to the JunkNotes, a group of junk haulers and corporate staff who sang and danced their way to winning $10,000 for charity, documented every step of the way by a camera crew. Several months earlier, many of those same employees joined their peers across Canada, the US and Australia to grow mustaches for the sake of growing awareness (and donations) for men's health as part of the Movember campaign. These two rather offbeat involvements exemplify 1-800-GOT-JUNK?'s approach to nourishing a vibrant corporate culture.
Many companies focus solely on one dimension of corporate culture – either the `fun' side, offering events and incentives that entertain, but fail to go deep to form a solid foundation for employee satisfaction, or vice versa. They may have a solid program of benefits and great communication channels within the company, but they fail to add in the fun things employees look forward to – things which tend to linger in the mind, fueling goodwill for the employer.
The culture at 1-800-GOT-JUNK? focuses not solely on either extreme of a culture spectrum, but tries to incorporate a spirit of fun underpinned by a solid base of support and fair compensation. The company hosts 'First Round Fridays' at the end of the week, monthly potlucks and a company sponsored fitness boot camp, but they're anchored by a solid compensation package, profit share and a system of one-on-one meetings where each employee to sets and reviews goals with their supervisor.
Both the Canada Sings! and Movember initiatives were enabled by a culture that tells employees, "Go, have fun, work hard, make us proud." It is a cultural philosophy that has not only ranked the 1-800-GOT-JUNK? as a best workplace many years running, but helped propel the company over the $100 million mark in revenue.
Attracting and retaining top talent is a tangible benefit of fostering a multi-layered corporate culture. Highly talented, engaged employees then serve as brand ambassadors. As odd as it may seem at first glance, a company's best and brightest exposed to the nation as they (literally) sing its praises is a pretty good argument for investing in corporate culture.
About 1-800-GOT-JUNK?
1-800-GOT-JUNK? is pioneering an industry that is helping residents and businesses remove junk and regain space. Whether it's a pile of household junk in the garage or a warehouse full of office furnishings, 1-800-GOT-JUNK? removes it for you, making the ordinary business of junk removal exceptional. We are passionate about recycling and donating to charity. 1-800-GOT-JUNK? was founded in 1989 and now operates throughout North America and Australia. For more information, visit http://www.1800gotjunk.com.
###