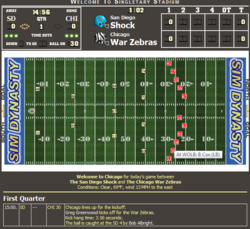 Encinitas, California (PRWEB) August 19, 2011
Sim Dynasty (http://www.simdynasty.com), recognized as one of the best sports simulation games on the web, announces signups for the dynamic football sim everyone's been anticipating.
Sim Dynasty Baseball set a new standard for the owner experience, allowing players to draft, develop, manage, trade and customize teams using an advanced game interface that parallels professional baseball nearly perfectly. Sim Dynasty has consistently been ranked as one of the top sports games on the web and boasts over 300 active leagues and 50,000 users.
With the launch of Sim Dynasty Football, the site takes players to the next level of the Owner/GM/Coach experience. Team owners control all the tools to run a simulated franchise from drafting to managing the salary cap to scouting to player development to in-game strategy. The ultimate goal is to win the Sim Bowl Championship.
Among the features of Sim Dynasty Football are:

A highly sophisticated game simulator with detailed play-by-play action so users can "watch" your games unfold
Head-to-head competition in 16-team leagues
Choose from 56 North American cities to call home (but keep in mind, it snows a lot in Saskatchewan)
Play-calling strategy for offense, defense and special teams, including red zone, yellow zone, 2-minute drills and goal-line plays
Quarter-by-quarter strategy adjustments so owners can respond to opponents' strategies during the game
In-depth talent evaluation with players graded in 24 separate categories, including Offense, Defense, Physical, Mental, Dexterity and Special Teams skills
Depth charts at every position, including long snappers, the hands team for onside kicks, nickelbacks, slot receivers and special teams gunners
Salary-cap logistics as you manage your roster from season to season
Career development, from scouting players in college to drafting to training in specific concentration areas throughout the season to dealing with declining skills and retirements
Full preseason, 16-game regular season and postseason, leading up to the annual Sim Bowl
Weather effects, including snow, rain, and wind with specific direction and velocity
Penalties, injuries that can affect player skill (a halfback won't be as quick after that high ankle sprain), conditioning and fatigue factors
Adjustable two-point conversion strategy, be aggressive early in the game or conservative to the final whistle
Active message boards and chat room with attentive and responsive Admins who discuss the game directly with users
At Sim Dynasty Football, all these factors come into play as the Owner/GM/Coach controls every aspect of the team from initial draft to building the roster from season to season. There has never been a football simulator that brings together all the dynamics of the game like this.
Sim Dynasty offers a trial version of the game which lasts 3 seasons. The multi-season leagues are priced at $5.50 per month. Users can signup for teams for both the baseball and football games at http://www.simdynasty.com.
###