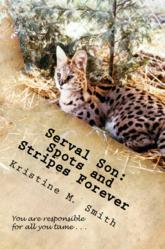 "If someone in Hollywood doesn't option this story to make a movie of it, they're asleep at the switch. In my opinion, SERVAL SON ranks right up there with Marley and Me. "
Seattle, WA (PRWEB) August 17, 2011
Today the President of FutureWord Publishing, Cheryl Haynes, announced that her company's upcoming release of "SERVAL SON: Spots and Stripes Forever" (ISBN # is 9780984589005) is already garnering the attention and acclaim of well-known animal advocacy groups and a pre-release reviewer.
Haynes said, "The manuscript—by author Kristine M. Smith, a lifelong animal advocate with decades of combined experience as a wildlife rehabilitator, captive wild animal caretaker, veterinary assistant, and humane educator—was sent to animal advocacy groups to gauge and gain their perspective and any additional ideas they might have for the book. What resulted was unexpected and unprecedented here at FutureWord."
The book is endorsed by several high-profile animal advocates. Tippi Hedren, president of the Roar Foundation/The Shambala Preserve (shambala.org) has written the foreword and ends her endorsement of the book with, "Kris Smith is a warrior, filled with tenacity, with a true love and respect for all animals. I love her."
Vernon Weir of the American Sanctuary Association writes, "Although I don't think this book goes far enough in condemning wild cat ownership, I do think it will discourage people from taking on the burden in the first place. The downside is this: All the love and affection between Kris and Deaken clearly comes through, which could lead some people to ignore all the warnings and do it anyway. Take our advice: don't do it."
And in a pre-release review of the book, ALLVOICES Tacoma Anchor Stephanie Ealy exclaimed, "If someone in Hollywood doesn't option this story to make a movie of it, they're asleep at the switch. In my opinion, SERVAL SON ranks right up there with Marley and Me. "
Publisher Haynes' revealed, "As I looked over [the manuscript], I thought how much this true story is needed in the gift shops of zoos, animal parks, and in school and county libraries. The book is educational but very engaging, jam-packed with familiar flashbacks to the emotional attachments we all have to our own pets."
Author Smith has raised or rehabilitated nearly every kind of small animal native to the Pacific Northwest, and most species of domestic and farm animals. But it was raising Deaken—an African serval cat—from the age of five days old until his death at 17 which she considers the epitome of her animal-enriched life.
The book—Smith's sixth to date—does not advocate the keeping of wild pets, especially wild cats, wild dogs and simians. To the contrary, for the many reasons the author explains and has endured, she is opposed to wild animal ownership for most people. She forewarns, "The commitment is brutal, the risks enormous, the memories indelible—good and bad."
The book will debut at Amazon.com and at FutureWord.net on September 1st. About six weeks later, it will be available at all online bookstores and on Kindle™. It measures 6 x 9 and will be perfect bound. Its ISBN # is 9780984589005.
Futureword Publishing publishes award-worthy fiction, non-fiction and children's books. Find out more at FutureWord.net or Amazon.com. Kristine M Smith is an animal advocate and a Top 5 copywriter at Elance. Reach her at kristinemsmith(at)msn(dot)com or kristinemsmith.biz
###