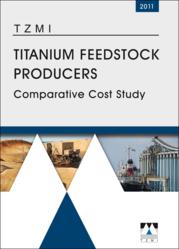 (PRWEB) August 18, 2011
TZ Minerals International (TZMI) is pleased to announce the release of the 10th Titanium Feedstock Producer Comparative Cost Study prepared by TZMI since 2001. This year, the TZMI team has put together a revamped cost study, which includes new presentation and functionality as well as a historical perspective covering the past 10 years for producers across the feedstock sector, ensuring the Study remains as the essential reference for comparative operating costs in the global titanium feedstock industry.
TZMI's primary measure of competitiveness in the industry is the revenue-to-cash cost ratio and as such individual operations are identified, however this measure is a combination of revenue and cash costs, so specific parameters are not identified. Costs are defined for groups of operations: titanium slag, synthetic rutile, rutile, chloride ilmenite and sulfate ilmenite producers. A total of 25 mineral sands operations have been included in this Comparative Cost Study, ranging from typical titanium minerals producers to the more sophisticated ilmenite beneficiation processing operations producing titanium slag and synthetic rutile.
The intention of this Study is to achieve the following objectives:

describe the methodology used for consistent comparison of operating costs that can be used across the titanium feedstock industry;
provide a set of meaningful cost data for the industry, without directly divulging details for individual operations;
provide an overall industry cost curve which can be used for benchmarking both existing operations and potential new projects, provided that cost data for these operations is analysed using the same methodology as adopted in this Study;
summarise overall cost competitive trends within the industry in recent years, highlight those factors that influenced these trends and provide an overview of the medium-term outlook.
When TZMI published the Feedstock Producers Comparative Cost Study in 2001, it was the first time the company had released such a study for general distribution.
The aim of the original Study was to provide an industry cost curve that could be used in benchmarking analysis for both existing and new projects. That aim has not really changed in 10 years, but what has changed is the development of more sophisticated data and detailed examination of the information related to operating costs.
It is interesting to note how things have changed for feedstock producers since the first Study. For example, the industry weighted average cash cost of HMC production for 2000 was $US23 per tonne of HMC. The weighted average cost per tonne of HMC produced for the feedstock industry in 2010 was US$54.30.
This is an essential resource for all industry participants. This report is suitable for anyone wanting to maintain an up to date perspective of all elements of the industry, including:

New titanium feedstock and zircon producers
Established titanium feedstock and zircon producers
New entrants to the industry
Financial industry (fund managers, hedge funds, investors and potential investors)
Orders for Titanium Feedstock Producer Comparative Cost Study are now being taken by TZMI. For more information about a subscription to the 10th edition of Titanium Feedstock Producer Comparative Cost Study please visit http://www.tzmi.com.
About TZMI
TZ Minerals International (TZMI) is a global, independent consulting and publishing company with offices in Australia, the US, Europe, Africa and China. The strength of TZMI's consulting services stems from extensive practical experience in the mineral sands, titanium dioxide and coatings industries and from a comprehensive database, which has been built up over many years.
TZMI has proven expertise gained from our consultants having many years of direct operating experience in the industry in chief executive, senior operational, analytical and marketing roles.
TZMI's publications and data services support the consulting activities and ensure up-to-date, high quality and comprehensive data, analysis and information across the mineral sands, zircon and TiO2 pigment industries.
TZMI provides operational and technical expert advice on many areas including:

Mergers and Acquisitions
Market Assessments and industry analysis
Due diligence
Pre-feasibility studies incl. preliminary capital and operating cost estimation
Competitive cost analysis and benchmarking
Technical reviews and audits
Resource assessments
Physical separation test work
Flowsheet development
Customised data analysis and reporting
###