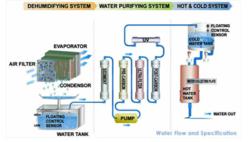 We are now receiving hundreds of enquiries from around the world, especially the Middle East and Africa where there is a shortage of water.
Kuala Lumpur, Malaysia (PRWEB) August 17, 2011
Malaysian-owned Vigilant Sdn Bhd's bid to sell its product that converts air into water is gaining global momentum, said Managing Director, Krish Kumar.
He said his company had received hundreds of enquiries since its recent signing of a Memorandum of Understanding (MoU) to create Vigilant Saudi Arabia (Vigilant SA) to market its Water From Air product in that country.
The MoU, which was recently signed between Krish and Nouf Idrees, a businesswoman and member of a prominent Saudi family, gives Vigilant SA the right to act as the sole importer, distributor and agent for the product.
"We are now receiving hundreds of enquiries from around the world, especially the Middle East and Africa where there is a shortage of water. Several foreign parties have also approached us to enter into arrangements similar to that of Vigilant SA.
"This spells excellent news for us and our Water from Air product," he said at the sidelines of a visit by the Sudanese Ambassador to Malaysia, Nadir Yousif Eltayeb, to Vigilant's office at QI Tower here.
Eltayeb, accompanied by Embassy Counsellor, Asim Yasin Mohamed Ahmed, was on a fact finding mission to learn more about the product.
He was briefed by Krish on both the home version, marketed under the brand name V-Stream for household and office use, and its commercial version which is installed on the roof of buildings.
Both systems work by extracting air from the atmosphere and condensing it through several filters to produce clean and safe drinking water.
According to previous reports, cost savings from using V-Stream is about 57% as the 15-liter capacity desktop unit can produce one litre of water at only USD0.15 compared to USD0.35 for a litre of bottled water.
For the 35-liter capacity stand-up unit, the cost savings is 48% based on a production cost of USD0.18 per litre. Besides the cost savings feature, the unit is also very easy to maintain as the filter is the only part of the machine which needs to be changed once in six months in normal conditions.
Eltayeb said he was keen to explore opportunities where Water From Air could be installed in Sudan to generate water in the country which has an annual rainfall of about 250mm between June and September.
In southern Sudan where equatorial climatic conditions prevail, the region gets an annual rainfall of more than 1015 mm. But even this is inadequate.
"Initially, we were a little concerned that the sandstorms in Sudan might hamper the effective functioning of the machine, but we are very glad to note that the design could be modified to accommodate operating under such conditions," he said.
Krish said a technical team would first be sent to evaluate the strength of the sandstorms and exact environmental conditions in Sudan before suitable modifications are made to the system.
"We are confident that we can modify our system to overcome unusual climate or on ground conditions such as the sandstorms in Sudan. This is not a problem," he said.
Earlier, Eltayeb was given a tour of QI Tower and briefed on the commercial version of the Water From Air system, which is installed on the rooftop of the 15-storey building to supply the drinking water needs of its 300 employees.
Krish also expressed his hope that the ambassador's visit will open doors for more business opportunities between his company and Sudan.
"There are huge market opportunities for us in Sudan, and I hope the ambassador's visit will be a prelude to our entry into that country," he said.
About Vigilant
Vigilant is a part of the dynamic QI Group of Companies, a multinational conglomerate with regional offices in Hong Kong, Singapore and Malaysia and a wide range of subsidiary companies in nearly 30 countries. Vigilant, based in Malaysia, is the project management and product development arm of the QI Group that focuses on special interest initiatives for the Group. Currently, Vigilant manages an exclusive private lounge for corporate members in Kuala Lumpur, and is also responsible for sourcing and developing innovative, technologically advanced, eco-friendly products for introduction into QI Group's various global markets.
The QI Group has six main business lines diversified into telecommunications, lifestyle & leisure, luxury & collectibles, training and conference management, property development and an e-commerce based retail & direct sales business. The constantly evolving group has also expanded organically into various new segments through strategic investments around the world.
# # #