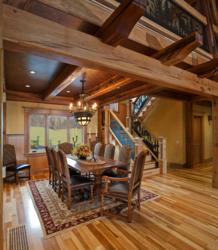 Besides the positive environmental impact of building with reclaimed materials, we were interested in the character, old-growth quality, and story this wood brings to our home
Farmington, NY (PRWEB) August 17, 2011
New Energy Works Timber Framers has made a name for itself among architects, builders, and timber framers for their expertise in sourcing and using antique timbers in timber frame homes, cottages, barns, pavilions, commercial buildings, and more.
"We started our sister company, Pioneer Millworks, to support our reclaimed timber frame building habit," states Jonathan Orpin, owner and founder of both companies. "Twenty years later and we're proud to say we've rescued more than 20 million board feet of the timber America was built on from grinders and landfills. We give it new life in the homes we craft."
Reclaimed wood is a premium product because of its stability, beauty, and historical interest. However, it can also be difficult to source like good antique furniture, and challenging to work with due to original mortise pockets and existing artifacts like nails or bolts. It can therefore be up to 20% more expensive than its fresh sawn counterpart.
"Reclaimed wood is part of our culture and history, our team understands antique wood and how to use it to the best of its potential, from our design group, to our engineers, to our joiners and timberwrights. And because there's no middle man, we can offer it to our clients at a significant savings."
Tracing back the story of antique timber offers a sense of why they're valued. Imagine a tree starting to grow in the 1600 or 1700's, then at maturity being cut in the early to late 1800's for a barn or a home or factory. Now, after 100 and in some cases 200 years, Pioneer Millworks "rescues" the wood from being chipped or discarded in landfills or left to rot.
Fresh timber needs to be kiln dried, and even then it may continue to move as the wood dries, possibly creating joinery gaps, and in some cases causing issues with drywall and other surfaces. Conversely, reclaimed timbers have been drying for generations, and are therefore less likely to move. Signs of previous life such as bolt and nail holes, ferrous staining, and insect trails add to the visual appeal of antique timbers. Typically these timbers are re-sawn to meet the needs of their new home. Hand-hewn surfaces of old agricultural timbers are often left intact, and original mortise and tenon joinery may be used where the design allows.
"Besides the positive environmental impact of building with reclaimed materials, we were interested in the character, old-growth quality, and story this wood brings to our home," says Maxine Bromfield, owner of The Vermont Street Project timber frame home in Portland, Oregon which was crafted with FSC Douglas fir industrial salvaged timbers from the Mersman Table Factory.
New Energy Works custom crafts environmentally responsible timber frames across the USA from their New York and Oregon facilities. The company offers Timber Framing (design, engineering, manufacturing, build), Enclosure Systems, Fine Woodworking, and Recycled and Sustainable wood products.
# # #