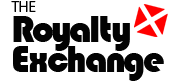 Even in this volatile market, royalties don't fluctuate
Raleigh, NC (PRWEB) August 17, 2011
TheRoyaltyExchange.com, currently in Beta, saw great success on their Disney Classic auctions with songs from Dumbo, Cinderella and Bambi. Generating nearly $36,000 in revenue by allowing fans to own a portion of Disney musical classics for the first time in history. The site has now added another group of well-renowned artists to participate in the site's unique entertainment investment platform.
The Royalty Exchange kicked off the launch of the company by allowing two lucky bidders the opportunity to own the royalties of some of the greatest Disney Classics. The rate of return, when compared to investing the same amount in a Money Market fund, was over 10% for the buyers. "Even in this volatile market, royalties don't fluctuate because they are not tied to any market forces," says Sean Peace, the President and Founder of The Royalty Exchange. "There is a tremendous opportunity for investors to look at us as a viable alternative marketplace and additionally purchase something that also means something to them personally"
Recently added auctions include:
Rodney O, considered one of the pioneers of West Coast hip-hop, is currently featured on the site by auctioning off 50% of his royalty stream to investors . Associated with names such as Dr. Dre, NWA and Ice T, Rodney O was a huge component of the hip-hop movement in the early 80s'. "Everlasting Bass" and "This is for the Homies" are just a couple of the artist's songs currently up for auction.
The royalties from Grammy award nominee Eric Benet's first two albums are at auction on TheRoyaltyExchange.com. Benet's album, Day in the Life, received significant airplay with the songs "Spend My Life With You (featuring Tamia)" and "Georgy Porgy (featuring Faith Evans)". "Spend My Life With You" rose to number one on the American R&B charts, was certified gold, and nominated for a 2000 Grammy Award for Best R&B Performance by a Duo or Group. The album, A Day in the Life also won a Soul Train Music Award for Best R&B/Soul Album, Male.
Johnny Britt, known for his recent tour with Josh Groban and his work with numerous other superstars, recently placed portions of his catalog up for auction to help raise money for his new album, Feels So Good. Britt has collaborated with The Temptations, David Bowie, Jennifer Lopez, Quincy Jones and Luther Vandross.
The Royalty Exchange is the only site that puts buyers and sellers of entertainment royalties together in an efficient and transparent marketplace were both sides can get the most value from their money. We can be found at http://www.theroyaltyexchange.com/. Follow TheRoyaltyExchange.com on Twitter @royaltyexchange for updates on auctions and other news about the site.
###