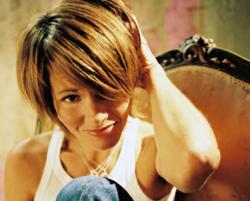 20 Great Bands in 2+ Days=Unforgettable
Pine Mountain, GA (PRWEB) August 19, 2011
The Callaway Gardens Harvest Moon Festival is adding to its stellar musical lineup. Having already announced the likes of the B-52s, The Gin Blossoms and John Hiatt, the festival now includes multiple Grammy-winning Shawn Colvin.
Early Bird Weekend Passes for $69 will be available for purchase only through August 31. Beginning September 1, the price goes up to $79 for advance weekend passes. Gate price during the event will be $85. This family-friendly music festival October 6-9, 2011, also features celebrity chef Claire Robinson, host of the Food Network's popular "5 Ingredient Fix."
Shawn Colvin, who has won three Grammy Awards of an incredible ten nominations, is an iconic singer-songwriter who is perhaps most famous for her 1997 chart-topper "Sonny Came Home." With this announcement of Colvin's addition to the event, the Festival also is announcing the daily lineup. The Thursday evening Harvest Feast ($62 per person) will feature a cooking demonstration by Claire Robinson, followed by a double-bill of Atlanta musician Nic Cowan and popular recording artist Joe Purdy. Friday boasts some big names with The B-52s, Shawn Colvin, Parachute, Dread Clampitt and Allgood among the acts scheduled to appear. Saturday showcases the bulk of the musical lineup, with the Gin Blossoms, John Hiatt, Shawn Mullins, Big Head Todd and the Monsters, and Mat Kearney among the biggest names to appear on the festival's two stages.
A variety of VIP Packages are available and will include benefits such as a private viewing area, backstage access, complimentary food and beverage, private parking and restrooms, and even deluxe motor coach transportation to the event. VIP Tickets to the Thursday's Harvest Feast include an intimate meal with Claire Robinson in the sublime Mr. Cason's Vegetable Garden, as well as complimentary beverages and private viewing of Joe Purdy and the rest of the acts.
The Festival will also have an expanded version of the hugely popular Callaway Gardens Farmers Market, an eco-centric Vendor Village, and two stages worth of great music. On Saturday morning, the golfers in the family can enter a shotgun start golf tournament to win great prizes and enjoy a Fall morning on the beautiful Mountain View Course. And football fans will be glad to hear that the festival tent will convert into a giant sports tent that will show all the day's college football action, as well as serve as the festival's second stage. Sunday morning, festival-goers will be bid farewell with a farm-to-table brunch, even more great music, and the wonder and beauty of Callaway Gardens.
Throughout the weekend, the Harvest Moon Festival will offer the freshest of foods from the region's premier chefs, farm-to-table restaurants and street-food vendors. The Demonstration Tent will host entertaining sessions on gardening and cooking with fresh vegetables, as well as great activities for children like puppet making, pumpkin carving and more. For those wishing to burn some calories, a host of yoga and fitness activities will be interspersed throughout the weekend.
And, as if more is needed, ticket-holders also will have complete access to Callaway Gardens' many attractions, including the 7.5-acre Mr. Cason's Vegetable Garden, the adrenaline-pumping TreeTop Adventure obstacle course in the forest canopy, the exciting Birds of Prey shows, the fascinating Cecil B. Day Butterfly Center, and the thousands of acres of breathtakingly beautiful landscaping featuring the amazing Autumn color of chrysanthemums.
The inaugural Callaway Gardens Harvest Moon Festival is definitely something to experience. Plan to stay for the festival and savor every moment. Overnight packages include tickets to the events but space is filling up quickly in the Mountain Creek Inn, Southern Pine Cottages and Mountain Creek Villas. Gather friends and family and call today to reserve a Harvest Moon Festival overnight package.
For more information, visit http://www.harvestmoonfest.com. For overnight reservations, call 1-800-CALLAWAY (225-5292) or visit http://www.callawaygardens.com. Keep up with updates for the Harvest Moon Festival at http://www.facebook.com/HarvestMoonFest and at http://www.twitter.com/HarvestMoonFst.
For sponsorship or vendor information, email harvestmoonfest(at)callawaygardens(dot)com.
Callaway Gardens® is in Pine Mountain, Ga., 60 minutes southwest of Atlanta and 30 minutes north of Columbus.
About Callaway Gardens
For almost 60 years, Callaway Gardens has provided "a place of relaxation, inspiration and a better understanding of the living world" for millions of visitors. Owned and operated by the non-profit Ida Cason Callaway Foundation, Callaway Gardens includes a garden, resort, preserve and residential community on 13,000 acres in Pine Mountain, Georgia. Highlights include a butterfly conservatory, horticultural center, discovery center, chapel, inland beach, nature trails and special events throughout the year.
In addition, Callaway Gardens offers nearly 80,000 square feet of meeting space, 763 guest rooms, restaurants, a full-service spa, shops, golf, tennis, fishing and more.
Five unique, close-knit residential communities –with custom home sites, lakefront properties and cottages on the golf course – offer an ideal home away from home or full-time residence.
Callaway Gardens is home to a 4,610-acre forest preserve which is under conservation easement. This conserved, sustainably-managed land is used for biological studies and environmental education programs.
Note to Editors: Images, interviews and visits to the event can be arranged. Thank you.
###