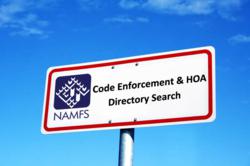 Providing a single source for code official and HOA information to our members affirms NAMFS' goal to offer solutions for the mortgage field services industry - Eric S. Miller, Executive Director
Stow, OH (PRWEB) August 18, 2011
The National Association of Mortgage Field Services (NAMFS), the premier trade association for the mortgage field services industry, in collaboration with Field Asset Services, Inc. (FAS), a leading property preservation, REO maintenance and repair service firm in the U.S., announces the August 22 launch of its Code Enforcement and HOA Directory Search Tools.
NAMFS, in its continuing efforts to improve communication between code enforcement officials and mortgage field service providers, has recently teamed up with FAS. to provide its membership with a comprehensive list of code officials and homeowners association contacts. Upon initial release, this database contains approximately 12,000 officials and 2,500 homeowners association contacts.
These two, free, web-based search tools, located at http://www.namfs.org, are available for all NAMFS members. The directory search tools have been designed to locate code officials and Homeowners Association contacts across the nation and include several options to narrow the search of these substantial databases. Users may choose from:

First Name
Last Name
Department/Title
Municipality
State
Zip code
Search results will populate in HTML format but can also be downloaded in Excel format to streamline use in other programs. In addition to providing search functionality, these tools also allow users to provide updated information for existing contacts and submit new contacts if they are not already available via the database.
This most recent partnership with FAS continues to reinforce the Association's goal of nurturing and improving the mortgage field service industry through the facilitation of better communication and cooperation with local officials. We are grateful for their generosity and the benefit it has offered to the Association and its members.
NAMFS continues to focus heavily on improving the relationships between field service providers and local officials. The Association has participated in several conferences, industry communications, webinars and newsletters to improve awareness within these communities and bridge, what is so often a divide, within this industry. If you are not a member of NAMFS and would like to begin using this valuable service or would like to obtain additional information regarding the benefits of membership, please contact Eric Miller, Executive Director, at 888-292-6831 or eric.miller(at)namfs(dot)org.
About NAMFS
The National Association of Mortgage Field Services, Inc. (NAMFS) is the premier trade association for the mortgage field service industry. We are dedicated to working with all entities of the industry from the Government Agencies and investors that set policy to the contractors and inspectors that perform the work. For more information visit http://www.namfs.org.
About Field Asset Services, Inc.
Field Asset Services (FAS) is a property preservation and REO asset management servicing company, which manages more than $10.8 billion in residences on behalf of our 26 major clients nationwide. Overall, we service over 120,000 properties on a regular basis. The company is headquartered in Austin, Texas. For more information, visit http://www.fieldassets.com.
###