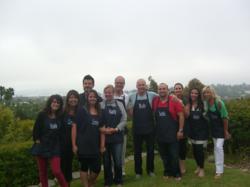 "Fantastico!! Grazie mille! Thank you for a great evening and the wonderful atmosphere you provided for our team."
Rob McCoy -VP/General Manager
San Diego, CA (PRWEB) August 23, 2011
Lajollacooks4u, a gourmet cooking and dining experience, was recently selected by Luxottica Group (OSA and ILORI), for its annual corporate team building event. Luxottica owns LensCrafters, SGH, Oakley and Ray-Ban.
Eleven executives from the Italian-based global retailer and manufacturer of sun and prescription eyewear spent over four hours preparing and cooking a five-course meal. The group was broken down into two teams with each team responsible for several recipes. Customized cooking aprons were ordered to present to the team before the class commenced.
Robert McCoy, Vice President and General Manager, Luxury Brands at Luxottica Retail, said the experience at Lajollacooks4u proved to be an ideal environment for corporate team building. "In many respects the entire evening was an interesting parallel to business planning and successful execution. "Each of us had to measure, evaluate, communicate and deliver for the successful outcome of each recipe," said McCoy. "What made this experience most enjoyable was the atmosphere in the kitchen; it was one of enjoyment and camaraderie," McCoy said.
Jodi Abel, founder and owner of LaJollacooks4u, said that a pleasant and engaging four-hour cooking and dining experience is one that will resonate with all participants for a long time. "Let's not forget that you're working closely with one another to create an outcome that you can be proud of and one you want to duplicate when you leave," Abel said.
Kathy Martin, Manager of Operation's Services, Luxury Brands summed it up by saying that as far as corporate team building is concerned, Lajollacooks4u proved to be the ideal choice. "The evening exceeded our expectations; Jodi is very warm and welcoming and gave us great cooking tips, educated us and was very patient as we all attempted our various culinary skills."
Once Luxottica Group completed its portion of the class, team members were seated at an elegant dining table and feasted on its own five-course meal, paired with wine. The group selected the beef tenderloin and crusted salmon. The rest of the meal included Roman Style Pizza with Roasted Tomatoes, Arugula and Truffle oil, Avocado and Mango Salad in a Citrus Vinaigrette paired with Luna Pinot Grigio. Orzo with Fresh Lemon Juice and Feta Cheese accompanied the beef tenderloin and salmon paired with Trader Joe's Reserve Cabernet Sauvignon and Italian Chocolate Melting Cakes for dessert!
Luxottica Group SpA produces and distributes sun and prescription eyewear of high-end, technical and stylistic quality. House brands include Ray-Ban, one of the world's best-known sun brands, Oakley, Vogue, Persol, Oliver Peoples, Arnette and REVO, and the licensed brands include Bvlgari, Burberry, Chanel, Dolce & Gabbana, Donna Karan, Polo Ralph Lauren, Paul Smith, Prada, Stella McCartney, Tiffany, Tory Burch, Versace and, starting from 2012, Coach.
Lajollacoks4u, founded in 2008, provides an ideal activity for corporate team building, couples and any foodie looking for a unique cooking and culinary experience in an magnificent setting overlooking the Pacific Ocean. Based in La Jolla, a suburb o f San Diego, CA, Lajollacooks4u has enjoyed record growth since its inception and has been ranked the number one attraction in La Jolla on the popular travel review site, Trip Advisor. For more information, contact Jodi Abel at jodi(at)lajollacooks4u(dot)com or phone 1-858-752-4980
###