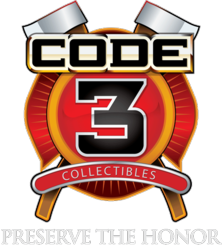 Van Nuys, CA (PRWEB) August 19, 2011
Matrix Holdings Limited announces that 2011 will be the last year of production of Code 3 Collectible die-cast vehicles. The company, Code 3 Collectibles will continue to operate its online business in an effort to sell all remaining inventory until further notice.
Arnie Rubin, founder of Funrise Toy Corporation, launched Code 3 Collectibles in 1997, aiming to ignite the emotional chord between Funrise Toys and the" little kid" in "big kids" – the adult toy collector. Code 3 Collectibles focused on producing high quality, limited edition die-cast replicas of emergency and firefighting vehicles, but also held licenses to create collectibles for Smithsonian Air and Space Products, Star Wars licensed products and a line of 3-D movie posters under the brand Legendary Casts.
"We have been passionate about the Code 3 Collectibles brand since we launched in 1997. During that time, we have had an amazing connection with our collector base. We appreciated their passion and loyalty. Unfortunately, the recent economic downturn has made it extremely difficult to continue the high standards of manufacturing that has made Code 3 Collectibles who we are," said Arnie Rubin, CEO of Code 3 Collectibles.
Funrise Toy Corporation and Code 3 Collectibles are headquartered in Van Nuys, CA, and are wholly-owned subsidiaries of Matrix Holdings Limited. Arnie Rubin is both CEO of Funrise and Code 3 Collectibles, and Vice Chairman of Matrix.
###