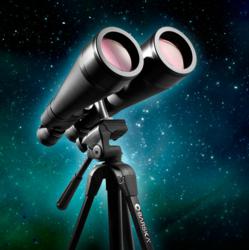 high powered zoom binocular provides a stereo 3-D view of an object
La Verne, CA (PRWEB) August 20, 2011
Barska, a leading manufacturer of binoculars, telescopes, and sport optics products has improved its selection of large astronomy binoculars with the introduction of a new line of zoom binoculars designed for long distance, high magnification viewing of astronomical and celestial objects.
Many great advantages come with using a pair of astronomy binoculars as apposed to a traditional telescope such as comfort and ease of use. Further, using a telescope with a single light path for astronomy results in a flat image with no depth of field whereas a high powered zoom binocular provides a stereo 3-D view of an object which provides the user a much more in-depth and profound view. Typically binoculars don't have as high of magnification or "power" that a telescope may have, resulting in a distant view of an object in the sky. Barska's new high power zoom binoculars allow the user to increase the magnification of an image from a stand distant view to a close-up detailed view effortlessly.
It should be noted that zoom binoculars for astronomy allow for much more than high magnification viewing. The zoom function makes it very simple to target an object that one wants to view. Astronomers know, finding an object in the sky is a time consuming job even if one knows when and where to look. Barska astronomy binoculars can be used at low power to view a large section of the sky. The zoom can be adjusted and increased very efficiently with the simple turn of a zoom lever which makes the job of targeting an object in the night sky a real cinch.
The new Gladiator zoom binoculars by Barska are designed for beginners to professionals. The highest power Gladiator zoom binoculars being the 20-140x80mm (Model AB11184) feature a built-in tripod mounting post for astronomy viewing. At a maximum magnification of 140x this is the highest zoom power binocular Barska has ever designed for astronomy. The 3-D depth of field image delivered by the gladiator binoculars is extremely detailed. The multi-coated prisms combined with large objective lenses allow maximum light transmission for brighter images. Next in line is the 15-125x80 power (Model AB10594) binocular which will provide the user an exceptional peek at the glorious universe. Smaller powers of 20-100x70 (Model AB10592), 12-60x70 (Model AB10172), and 12-36x70 (Model AB10170) are also available. The Barska Gladiator series will allow both amateur and experience astronomers to enjoy stereoscopic amazing views of the marvelous night sky.
Barska, with corporate offices, warehouse and distribution in La Verne, CA (Southern California), is a worldwide sport optics company with strong brand recognition in the optics industry. Barska offers an extensive line of precision binoculars and sport optics. Barska is committed to delivering a superior quality product at an affordable price to our customers around the world. For more information, please call Barska at 1-909-445-8168, or visit them online at http://www.barska.com.
###