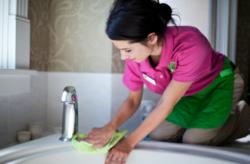 Picking a house cleaning service is a big decision and should not be made lightly, or on price alone.
Saint Louis, MO (PRWEB) August 19, 2011
Back to school season is upon us, and with it comes a whirlwind of activity for most households. It seems for most of us that there are too many things to do, and not enough time or energy to get it all done. In this day and age many households have decided to seek outside help, including house cleaning services. In fact professional house cleaning is one of the fastest growing home services, and is being adopted by a higher percentage of households every year. It is also a very important decision as to who home owner choose to clean their home. They are giving these service providers very intimate access to their most private spaces, and more important private information.
A good place to begin your search is to ask friends, coworkers, and more who they use and why? A membership to a service like Angie's List can also be helpful. It has independent reviews of providers and grades them among many categories. Once you have a selected a few potential candidates, make sure to ask the following questions before you settle on one. The answers they provide can be critical to making the right choice for your home. Treat the process like an interview.
Is the house cleaning service you are evaluating bonded and insured? Over look this and you could find yourself on the hook for injuries that occur in your home. No professional provider would go without insurance, so know that hiring that nice independent cleaner could have serious financial implications if they get hurt on the job.
Will your new house cleaning service offer a guarantee? A good house cleaner will have a written guarantee as to the quality of the service they will provide, and what is included. One thing the really good service providers guarantee is your day of service. You want to know that after you get the home all ready for your new house cleaning provider, that they will show up as scheduled.
How do they pay their employees? If you hire a company make sure that their staff are employees of the company and not independent contractors. If instead you hire an individual cleaner, you can almost guarantee that great price comes at the compromise of ethical tax payments. Avoid potential embarrassment, by making sure this is all covered by your new house cleaning service, otherwise it is your responsibility.
How many people will they use to clean your home? Will it be the same people each time? Good companies tend to work in teams. This provided reliability and consistency. While it is impossible to have the exact same people every visit, a good provider should try to give you the same team on each visit.
What type of cleaning solutions will your house cleaning provider use? Will you need to provide anything? Going green is a big deal. It provides you with a safer home, and potentially reduced risk of exposure to toxic chemicals. See if your new provider will use products certified under Whole Foods Eco Scale.
How much will they charge & what's included?
This seems like an obvious question, but do not leave it open ended. Ask for a quote for your initial cleaning and for ongoing service. That way you are both on the same page. A good service provider will also provide you with a place to verify what is included in your cleaning service. A link to a website should suffice, or in a service policies handbook. It just needs to be spelled out so that again, you are both on the same page.
These are just some basic questions to ask. Make sure you feel comfortable with your new provider and the answers they give you as you are giving them access to your home and family.
Better Life Maids is a green house cleaning service founded in St. Louis, MO. It has created a unique marketing partnership with Better Life a natural household cleaning products manufacturer. Together they are working to create the first national name brand in natural household cleaning products and green house cleaning services. Better Life Maids is expanding in select markets through a franchise development system.
# # #