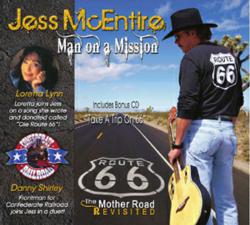 Nashville, TN (PRWEB) August 23, 2011
Mother Road Music announced today the release of the new CD "Man on a Mission" and "Take a Trip on 66", a 2-Disc set by country music's Jess McEntire. The new record features 21 songs all written and performed by Jess and his friends in an effort to create attention and bring awareness to the plight of America's Highway - Route 66.
Boasting great country music by many well known country artists the record is a tribute to the historic highway and engulfs everything America is truly all about. Known affectionately as the Mother Road, Route 66 spans over eight states from Illinois to California and is one of the first American highways to bridge the east to the west.
Jess McEntire's "Man on a Mission" essentially spells out his sincere commitment to promoting tourism awareness on Route 66 with every song written and recorded. With the formation of the non-profit organization projectroute66.com, Jess, his friends, and his very much involved Executive Director/CEO Bill Hamilton hope to raise the funds, primarily through music. A long term goal for this endearing project is to assemble and promote a traveling concert tour down the highway's corridor featuring major and emerging artists. The primary purpose will be to create awareness, and generate income to be used to place billboards throughout America promoting tourism awareness and to place ads in several trade magazines.
Far from just another version of "Get Your Kicks on Route 66" this 2-disc release "Man on a Mission" and "Take a Trip on Route 66" is truly a heartfelt tribute and fresh musical approach to bring this historic highway back into the forefront, which in the early days was the primary marketing avenue for young up and coming artists to promote their music by soliciting radio play at stations along the route. Featuring authentic and real down home American country songs, all written and donated to the cause by many country music superstars, this record epitomizes the American way and the performers dedication to bring a 21st century perspective to an old friend for generations to come.
Songs like "Ole Route 66" written by country music legend Loretta Lynn, where she recalls memories of her time traveling and performing down route 66 in the early days of her career, only further impresses the importance of this old highway. Loretta credits Route 66 as being a key factor in her success. She further states, "The road helped promote music in America, through music we can help the road".
The title track "Man on a Mission" is one that's so close to Jess McEntire's heart it clearly invokes his true feelings and deep love for the route 66 project and the beloved road he grew up a major part of. It's a clear goal for Jess – This road did so much for him that he must give something back and with his music and organization, that's exactly what he intends to do. "Leave and Learn" the CD's second track, is a wonderful duet with McEntire and country music star Danny Shirley of the Confederate Railroad. A great country song about life's ups and downs, McEntire and Shirley put forth a great performance on this track.
All and all this CD and meaningful project is all about The "Mother Road Revisited" It's all about a sincere hope and dedication to make it what it once was. It's all about giving back with the music from each and every artist that is lending their heart, talent, and time on this stellar new CD.
In the earlier days, the "Mother Road" was the road taken to promote artists and their records through radio. "Many a superstar's career was born on this road" states McEntire, " the road helped music be what it is today, and now it's time to give something back through our music and organization".
"We are always looking for artists to help the project", stated McEntire, "and we urge them to submit their songs to aid the route 66 project at http://www.motherroadmusic.com. Mother Road Music will donate the major portion of revenue generated from every song downloaded and from sales of the CD "Man on a Mission".
For more information on Project Route 66 and to learn how you can be a part of this American highway preservation campaign visit our website at http://www.projectroute66.com. To sample and purchase "Man on a Mission" visit http://www.motherroadmusic.com. You can also view a promotional video at http://tinyurl.com/projectroute66
Track Listing
Man on a Mission
Jess McEntire
1. America's Highway
2. The Mother Road
3. Leave and Learn [Duet with Danny Shirley of Confederate Railroad]
4. Ole Route 66 [With special guest Loretta Lynn]
5. Man on a Mission
6. Mystery Man
7. How Can I Miss
8. Along for the Ride
9. Part of Me
10.The More I'm Around Some People, The More I Like My Dog
Track Listing
"Take a Trip on 66"
1. Me and My 55 on 66 – Brad Conner & the Dank Hanks
2. Down on the Mother Road – Ben Reno
3. It's a 66 Day – Billy Dawson
4. Till She Leads Me Back to You – Tim Hopkins
5. Still a Great Highway – Lynn Easterly
6. Along For the Ride – Dustin Reynolds
7. America's Main Street – Paul Byron & JD Stephan
8. Truck Driver – Forrest Lee, Jr.
9. You Can't Get Your Kicks on Route 66 – Bill Powers & Honey Don't
10. Lonesome Highway – Mike Shane
11. The Grapes of Wrath are Ripe Again – Mike Cullison
12. What Happed to Route 66 – Terry Eilers
Websites
http://www.projectroute66.com
http://www.motherroadmusic.com
http://www.66themotherroad.com
Video Links
http://tinyurl.com/Jess-Loretta-Promo
http://tinyurl.com/Jess-with-Loretta-Lynn
###