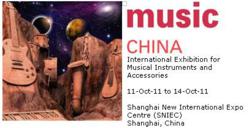 May our products help you access and express your deepest brilliance & inspiration. May your brilliance & inspiration, in turn, spread to the rest of the world! ~ Theo Wanne
Bellingham, WA (PRWEB) August 31, 2011
Theo Wanne is consistently pushing the envelope of possibilities in woodwind mouthpiece design. This year is no different, and the brothers, Tom and Theo Wanne, will take the Music China Show in Shanghai by storm, with exciting new products.
They will be hosting their first booth (#E3-C19) ever at this event, providing a atmosphere full of innovation, inspiration, fun and excitement as they introduce a variety of new innovations destined to amaze the music world once again.
Tom Wanne, CEO, says, "We look forward to meeting up with many of our international dealers and distributors, as well as connecting with other good friends within the music industry and establishing new relationships. The Music China tradeshow, along with Winter NAMM and Music Frankfurt are the three largest music manufacturing tradeshows in the world. They have played a large part in our tremendous growth domestically and internationally."
Theo Wanne is legendary for making revolutionary products that inspire musicians. Join the Revolution!
###