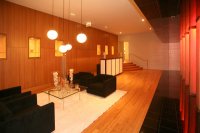 Chicago, IL (PRWEB) August 21, 2011
Balance Spa Management is pleased to announce the opening of its newest location - Balance Spa & Fitness located in the Palmer House Hilton, Chicago Illinois. This urban retreat is located in the historic Palmer House property in Chicago's Loop District and caters to both hotel visitors and local clientele.
Balance Spa:
Balance Spa, located on the 5th floor of the hotel, offers a full menu of spa services in the 12 treatment room spa and state-of-the-art hair salon. Spa services include massage therapy, facial treatments, body therapies, waxing, manicures, pedicures and make-up and hair services. Spa services are competitively priced and begin with a consultation to customize the treatment to the unique needs of each guest.
Utilizing three leading product lines with ingredients ranging from organic plant botanicals to therapeutic cosmeceuticals, Balance Spa offers nearly 50 customized, results-driven services for skin and body therapies. The three product lines and featured services include:
•The leading manufacturer of clinically-validated skin care products, services featuring Jan Marini include a Proteolytic Enzyme Facial to improve clarity, texture and elasticity of the skin, and a Glycolic Resurfacing Facial, designed to target unique needs such as acne, sun damage or hyperpigmentation. A Resurfacing Body Polish retexturizes and renews for brighter, smoother and more hydrated skin.
•Murad treatments utilize mild cosmeceuticals to balance and transform, such as the Acne Complex treatment or Men's Facial to relieve razor-related irritation such as razor bumps and clogged pores. The Firm & Tone Body Treatment reduces signs of cellulite and stretch marks while increasing skin firmness and elasticity, beginning with a thorough exfoliation of problem areas and ending with Murad's Body Firming Cream to minimize imperfections and nourish skin.
•Phytomer, the undisputed leader in marine-based skin therapy, provides nourishment and rejuvenation through services such as the European-style Essentials Facial featuring a highly-concentrated marine masque, or the Youth Intervention Facial, toning and restoring skin through an abundance of ocean minerals which increase cellular turnover for skin regeneration. Body services include an Exfoliating Body Scrub and Sea Foam Body Wrap, detoxifying and restoring the body's balance of minerals.
Skin and body enhancements include firming eye masks, lip treatments and hydrotherapy. The spa also offers 10 options for manicure and pedicure services and a comprehensive list of waxing services.
Balance Fitness Center:
Balance Fitness Center, located on the 8th floor of the hotel, offers fitness and wellness services in the 10,000 square foot fitness center. Memberships include access to cardiovascular and weight training areas, indoor pool and Jacuzzi, group fitness classes, and luxurious locker rooms complete with grooming amenities, steam rooms, and refreshments.
Memberships to both the spa and fitness spaces are available to individuals and corporations. All spa and fitness members receive 10 percent off spa services and spa members receive a complimentary spa treatment each month valued at $125 or less. Personal training sessions and BodyAge health assessments are also available with the fitness center's certified professional trainers.
More information about Balance Spa and Fitness, including a full list of services, hours of business and special offers, visit http://www.balancespachicago.com.
Balance Spa Management specializes in the design, development, and management of spas and fitness centers for hotels and other large luxury living environments. For more information, contact Kelly Maack at 302-223-5941 or visit us at http://www.balancespamanagement.com.
###