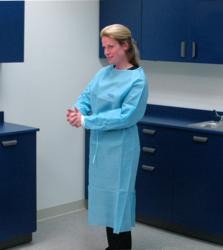 Unlike some other disposable gowns, the new QM-Elite gowns are manufactured under the quality standards of ISO 13485 and 9001
Issaquah, WA (PRWEB) August 23, 2011
QuickMedical QM- Elite gowns are a high-quality disposable garment that offers excellent barrier protection and are ideal for use in laboratories, hospitals, schools, medical clinics, long-term care, and manufacturing.
Scott Hanna, CEO and President of QuickMedical said, "Our new QM-Elite disposable gowns are manufactured of non-woven Spunbond Poly material that gives our gown outstanding durability. The multiple uses, very economical one-size-fits-all disposable gown has knitted cuffs, Velcro neck clasp and waist tie closure." Mr. Hanna concluded, "The heavier 60 gram weight makes the QM- Elite gowns ideal for the demands of today's healthcare, industrial, laboratory and environmental workplace."
The new QM-Elite gowns are a long sleeve, full-length one-size-fits-all gown that has excellent barrier protection qualities. The extra length waist tie allows the gown to be easily tied in the front, and is sewn to provide extra strength.
"Unlike some other disposable gowns, the new QM-Elite gowns are manufactured under the highest quality standards," said Loren Timmons, Marketing Director for QuickMedical. "Our gowns are manufactured under the quality requirements and standards as outlined in ISO 13485:2003, ISO 9001: 2001 and ISO 23485; 2003. Customer satisfaction and product quality are the two most important objectives for our new QM-Elite brand."
About QuickMedical:
With great pricing, QuickMedical® has the professional medical equipment needed by health care providers. Look for diagnostic equipment, exam tables, weighing and measuring devices, and medical basics such as stethoscopes, thermometers, and sphygmomanometers. QuickMedical® also offers a wide selection of professional medical supplies; everything from patient care, to blood testing, to exam room products. At QuickMedical you'll find affordable QM-Elite disposables and medical supplies for the clinic, hospital, or home care environment.
###