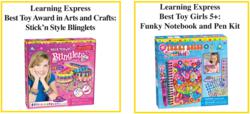 (PRWEB) August 24, 2011
The Orb Factory is proud to announce it recently received three prestigious awards from Learning Express, the largest educational toy retailer in North America. The 2011 awards are for: The Industry Leader Award, Best Toy for Girls Ages 5+, and Best Toy Award in Arts & Crafts.
The awards were recently presented at the annual Learning Express Awards Banquet in Jacksonville, Florida. The awards, which are voted on by the storeowners, recognize The Orb Factory's strong partnership and commitment to Learning Express.
Sharon DiMinico, Learning Express Founder & CEO, announced that Learning Express has created The Industry Leader Award to recognize and thank companies for demonstrating considerable insight into today's marketing, understanding the impact their decisions have on local store owners, and leading by example. And The Orb Factory is an industry leader in all these areas."
Steven Kay, President of The Orb Factory, said, "Winning this new award created by Learning Express in response to the challenges specialty retailers are currently facing is truly an honor, and recognition by Learning Express that we are listening."
Additionally, Learning Express presented The Orb
Factory with two outstanding product awards. The 2011 Best Toy Award for Girls Ages 5+ for Sticky Mosaics® Funky Notebook & Pen Kit. And the 2011 Best Toy Award for Arts & Crafts for Stick 'n Style® Blinglets Kit.
Bill Bordegon, North American Sales & Marketing Manager for The Orb Factory, stated, "We are honored to have won three awards from the largest educational toy retailer in the U.S. We have developed an excellent partnership with the Learning Express home office team and their knowledgeable storeowners which has resulted in significant increases in their sales of our specialty branded arts & crafts."
The Orb Factory Limited, currently celebrating its 20th anniversary, is a leading specialty toy company known for its popular brands, including: Curiosity Kits®, Sticky Mosaics®, My First Sticky Mosaics®, StoryCraft®, Stick'n Style®, SparkleUps®, Magnetic Mosaics® and Magnetic Color Cubes®. Visit The Orb Factory website for more details.
About Learning Express
The Learning Express Annual Convention hosts the Learning Express corporate staff, the owners of more than 150 Learning Express toy stores, and more than 120 of the world's top toy vendors. Learning Express is the leading franchisor of specialty toy stores, each one locally owned and operated. Learning Express provides an extraordinary shopping experience with knowledgeable sales staff to offer expert advice on choosing the perfect toy, for every child, for any occasion. The product mix is carefully selected from manufacturers around the world and all have exceptional play value. A birthday gift registry, free gift-wrapping, free personalization, civic fundraising, and consumer VIP programs make each Learning Express store an integral part of the community. To discover more about Learning Express, to find a store near you, or to learn about franchise opportunities, please visit http://www.learningexpress.com or call (800) 436-8697.
###