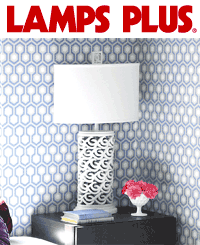 "When you walk into each of these rooms, there's a spirit of joy and delight that will really benefit the women residents."
Chatsworth, CA (PRWEB) August 25, 2011
LampsPlus.com, the leading online retailer of decorative lighting and home décor accessories, announced its involvement with the Good Shepherd Charity Design Project in Los Angeles. The project benefits the Good Shepherd Center for homeless Women and Children, renovating rooms used as temporary shelter by victims of domestic abuse and homelessness.
Lamps Plus donated table lamps, lighting fixtures and home furnishings to the shelter. The project renovated 30 single occupancy rooms at the shelter's downtown location, and was managed by interior designer Vanessa De Vargas, and consultant/writer/editor Vanessa Kogevinas of the Los Angeles-based Designers Networking Group (DNG).
Each room was assigned to a local area designer, who was given one month to complete their room redesign. 10 of the rooms were completed in May, another 10 in June and the final 10 unveiled in July. Angela Hsu, Lamps Plus Vice President of Internet Marketing, noted that, "As a company located in Los Angeles, Lamps Plus is very pleased to have been a part of this charitable project, which benefits so many women and children in our community on an ongoing basis."
Before the room transformations, each space had linoleum floors, a desk, chair, chest of drawers, a bed, and standard bath area. During the renovation process, each designer was given the freedom to design and decorate their allocated room to their own liking. New rugs, bedding, wall paper and paint were installed. Donations from the lighting company included several table lamps and bathroom lighting fixtures that helped to add designer touches to each of the rooms. Talking about the products used, Susie Ho, a Los Angeles-based interior designer, who created one of the rooms, said, "I wasn't aware Lamps Plus had the product range that they do. I was very impressed with the product Lamps Plus carries."
An Open House was held on the weekend of July 23rd to showcase all the new rooms. At the event, Vanessa De Vargas of the DNG, said, "We couldn't have done anything without the generous corporate support of sponsors like Lamps Plus. I can't thank them enough for donating to our Charity Design Project and making this all possible. When you walk into each of these rooms, there's a spirit of joy and delight that will really benefit the women residents."
To qualify for the shelter, women must first spend several months in first-step emergency shelter accommodation while they find a job. Once they secure employment, they can move into the rooms where 30 percent of their income goes towards rent. Each resident then has up to two years to use the room while they stabilize their lives and then search for their own apartment. In the Good Shepherd Center's 27 years of operation, they have impacted the lives of over 25,000 homeless women and children in the Los Angeles area.
About Lamps Plus
For over 30 years, Lamps Plus has been synonymous with excellence in the lighting retail industry. Established in 1976, Lamps Plus is the nation's largest specialty lighting company, with over 40 superstores throughout the western United States. Together with their retail stores and online business, Lamps Plus serves over five million customers each year with the largest selection of functional and decorative lighting fixtures and accessories. This selection includes hundreds of products available exclusively from Lamps Plus. Services include free in-home lighting consultations, in-store lighting seminars and installation from expert, licensed electricians. American Lighting Association certified lighting designers are available to offer product recommendations and lighting advice in all our stores, by phone or online at LampsPlus.com. For more information, please contact: PR(at)LampsPlus(dot)com
About The Good Shepherd Center
The mission of Good Shepherd Center for Homeless Women & Children is to provide, with dignity and love, a continuum of care from homelessness to self-sufficiency for women and their children, through services offered by professional and volunteer staff. For over 25 years Good Shepherd Center has provided food, clothing, shelter and supportive services for homeless women and children. From mobile outreach to transitional shelter to long-term housing for mothers with disabilities, help is available every step of the way. Good Shepherd continues to serve more than 900 women and children a year through comprehensive programs, providing long-term solutions to poverty and homelessness. For more information visit the Good Shepherd website.
###