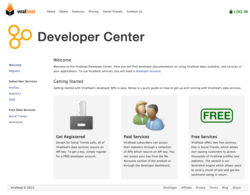 "By releasing our sentiment analysis API for free, we are breaking down the barriers to entry and helping the market for sentiment analysis to mature much faster." Raj Kadam, Co-founder of Viralheat
San Francisco, CA (PRWEB) August 23, 2011
Viralheat, the powerful and easy way to get analytics and actionable intelligence on the social Web, today announced the availability of a completely free sentiment analysis API (application programming interface). The API, currently in beta, enables developers to incorporate sentiment analysis into their apps to assess virtually any data set from the Web. Viralheat is making the API available for free to any developer or organization for up to 5,000 calls per day.
Sentiment analysis technology has traditionally been too expensive or unreliable for developers to build it into their applications. Additionally, sentiment analysis vendors often charge tens of thousands of dollars for access to even the most basic sentiment technology. Viralheat's free offering is based on the same sentiment engine used in the core Viralheat product and has been trained by real-world users for over 2 years.
"Social media analytics need to evolve to be much more sophisticated," said Raj Kadam, Co-founder and CEO of Viralheat. "By releasing our sentiment analysis API for free, we are breaking down the barriers to entry and helping the market for sentiment analysis to mature much faster. As more developers use the API, this will become one of the largest, most accurate and accessible sentiment engines available."
Viralheat's existing social media analytics product is among the most powerful, easiest to use and affordable on the market. The product offers features such as in-depth analysis on social media trends, sentiment, influencer data and intelligence. Competitor pricing for similar features can soar to as much as six figures, and more.
This release continues Viralheat's commitment to making complex social analytics much more accessible, while helping to push the market forward to focus on new and innovative technologies such as the predictive analytics featured in Viralheat's Human Intent product.
"This is an important development for the social media analytics market," said Vishal Sankhla, CTO and co-founder of Viralheat. "This technology has, for far too long, been inaccessible for the majority of developers out there. By leveraging Viralheat's uniquely scalable infrastructure, we're able to push the market forward with easy and free access to powerful technology."
The Viralheat sentiment API is already being leveraged by three major partners, including Klout, Seesmic, and Zuberance.
Klout, a launch partner with the API, believes sentiment will become important for their Klout Perks campaigns to help brands better understand the content created by influencers.
"The Viralheat team is doing something really powerful with their sentiment API," said Joe Fernandez, CEO and co-founder of Klout. "We're already exploring ways in which we can leverage the API at Klout to analyze the content and value produced in our Perks campaigns."
Seesmic has built sentiment analysis into their desktop offering, making it possible for users to assess the sentiment of their streams, individual Tweets or broad Twitter searches. Additionally, Zuberance is using Viralheat's API to better identify meaningful brand advocates.
For access to the API, developers can quickly create a Viralheat developer account and immediately begin leveraging the technology with up to 5,000 calls per day. The API is able to analyze virtually any data type from the Web, including:

Social media data like Tweets and comments
Financial buzz about stocks
Any content on a Web page
Brand and product reviews
Political buzz, coverage and conversations
And more
For more information visit: http://viralheat.com
About Viralheat
Viralheat is a simple and affordable way for brands, agencies, marketers and content producers to monitor content and engagement on the Web and across social networks.
Users can identify key trends, sentiment, understand community engagement, influencers and perform competitive analysis, with an emphasis on anticipating future actions and results. Founded in January 2009 by Rajeev Kadam and Vishal Sankhla, Viralheat was built with fanatical focus on scalability and speedy data analysis at disruptively low costs.
For more information please visit http://www.viralheat.com or follow us on Twitter (@viralheat).
###