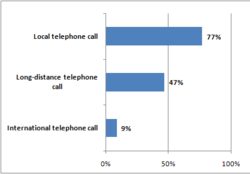 Our cell phones have become critical productivity and entertainment tools. Today, making phone calls is almost mundane. Indeed, only 6 percent of the online Americans in our survey reported not having a cell phone
Atlanta, GA (PRWEB) August 23, 2011
Polaris Marketing Research Inc. announced today more results of its recent study of American consumer usage of cell phones. In the past 30 days, 77 percent of online Americans made a local telephone call using their cell phones and 47 percent made a long-distance telephone call. Another 9 percent made an international telephone call using their cell phones.
However, cell phone usage has expanded far beyond voice communications. In the past 30 days:

65 percent of respondents sent a text message.
60 percent of respondents took a photo.
38 percent of respondents visited a website on the Internet.
36 percent of respondents sent an email.
29 percent of respondents posted onto Facebook, LinkedIn or Twitter.
"Our cell phones have become critical productivity and entertainment tools. Today, making phone calls is almost mundane. Indeed, only 6 percent of the online Americans in our survey reported not having a cell phone," said Polaris President Jan Carlson.
Polaris conducted online surveys with a representative sample of 1,000 American consumers during the week of July 18, 2011.
Founded by Jan Carlson, Polaris Marketing Research is a full-service firm that provides state-of-the-art online interactive marketing research reporting, interviewing and data collection, quantitative and qualitative research expertise and personalized project management.
Atlanta-based Polaris Marketing Research is affiliated with the Council of American Survey Research Organizations, the American Marketing Association and the American Society for Quality.
For more information, call Danica Kwon at 404-816-0353 or visit us at polarismr.com.
###