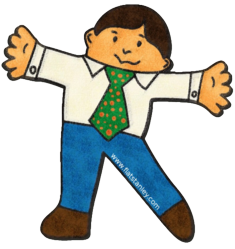 This app marks the launch of Flat Stanley moving online in a way that's mobile and social, catering to future generations of pen pals around the world.
San Francisco, CA (PRWEB) August 23, 2011
Flatter World, the new educational venture behind the Flat Stanley franchise's move to the Web, today announced the release of Flat Stanley for iPhone. Flat Stanley is free to download and enables children to share content in a safe way with their friends, teachers and families.
The Flat Stanley App is the mobile version of the beloved Flat Stanley Project, a pen pal program that Dale Hubert, a third grade teacher in Canada, invented in 1994 to promote international literacy and community building for children ages 13 and under. The character itself dates back to a beloved children's book published by Harper Collins in 1964.
Children can quickly sign up and bring Stanley or Stella (the new, female Flat character) with them wherever they go. In minutes, they can customize their creation (by choosing skin and hair color, facial expressions and clothing), take photographs and insert Stanley/ Stella into them with either front or rear-facing camera, write their character's biography and "like," comment on and share photos with their friends across the Flatter World network, Gmail, Facebook and Twitter.
The app also plots popular Stanleys on a Wall of Fame as well as those near a particular user on a world map, helping users track where their friends and families' Stanleys travel. It's a quick and easy way for kids to see the world and make new friends outside of their hometown with a familiar and friendly character leading the way.
To encourage exploring Stanleys outside of one's network, the app unlocks special pictures from exciting locations.
The app works in both online and offline modes so that users can take and save Flat Stanley photos irrespective of Internet connectivity.
"This app marks the launch of Flat Stanley moving online in a way that's mobile and social, catering to future generations of pen pals around the world," said Flat Stanley Project founder, Dale Hubert. "It's just the tip of the iceberg and will help introduce users to what's coming next: a robust Flat Stanley social network built on the principles of sharing content in safe and fun ways."
The Flat Stanley app presents wide range of educational possibilities for teachers, and beta app users have already been actively sharing pictures of their personalized Stanleys in scenes from history, alongside political leaders and celebrities, on their vacations, and more.
Over the past 16 years, schools and teachers across the world have incorporated the Flat Stanley Project into their curriculums to promote exploration and community building and to strengthen writing skills:

4,500 schools across 88 countries are registered with the Flat Stanley Project
It's part of the official curriculum for counties in most of the Unites States
It has been incorporated into Harper Collins books to MTI musicals
Hundreds of thousands of Flat Stanley's have been exchanged around the world
1M+ people are exposed to Flat Stanley each year
About Flatter World:
In 1994, Dale Hubert, a Grade 3 teacher in London, Ontario, Canada, began the Flat Stanley Project. He invited other teachers to take part by hosting flat visitors and to encourage their students to write their own Flat Stanley journals. Jeff Brown, the author of the Flat Stanley book, was delighted with the Flat Stanley Project as it renewed interest in the book, resulting in a sequel almost 40 years after the original.
In 2010, Darren Haas, a huge Flat Stanley advocate and applications architect, approached Dale with the idea of applying Dale's Flat Stanley concept to an app for the Web and mobile. Since then, Flat Stanley has traveled across the digital universe onto Facebook, Twitter, iPhone, and soon, even more.
For more information, visit: http://flatterworld.com/
###