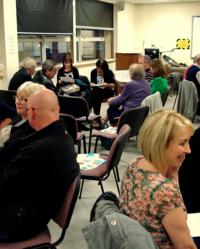 We would like to see more groups established so that many more of the thousands of people who experience tinnitus can gain benefit from others in a friendly and supportive environment.
(PRWEB UK) 24 August 2011
The British Tinnitus Association (BTA), the only UK charity dedicated to supporting those who experience tinnitus, is to host a free one-day event for all UK based tinnitus support groups on Saturday 15 October 2011 at the Deaf Cultural Centre in Birmingham. The event is being supported by the Big Lottery Fund.
The inaugural information day will be held from 9.30am – 4.30pm and is intended to inform and inspire people who either attend or run existing tinnitus support groups, or to encourage others to form a group if one does not exist in their area. The event will include presentations and workshops as well as one-to-one sessions with a panel of experts.
The event will feature speakers on a broad range of topics including fundraising within a group, maximising local PR opportunities, legal issues and medical issues.
Speakers will include David Stockdale, CEO of the British Tinnitus Association, a member of the BTA's Professional Advisers' Committee, and representatives of the two event sponsors, Marketing Matters – an integrated marketing agency - and Unity Law, which specialises in helping people with industrial and work-related injury, disease and Disability Discrimination cases. A representative of the Birmingham and District Tinnitus Group will also speak about the role of a self help group and counselling people with tinnitus.
The self-help groups information day will benefit those who run an existing tinnitus support group, and will reveal useful information about how to maximise the potential of the group and how to reach more people in their local communities. The BTA is also using the event to support people considering starting a group in their area.
Participants will be able to choose from free workshop sessions including:

Starting a group: effective advertising and how to recruit new members
How to involve local medical professionals and sourcing group speakers
Governance: how to have an effective committee
David Stockdale, CEO of the BTA, said: "Ten per cent of the population experience tinnitus yet there are just 32 tinnitus support groups across the country, and previously there have been over 120. It is the BTA's aim to support those who wish to become involved in working with others in their communities via a self-help group and thanks to the generously of the Big Lottery Fund we are excited to host this event for the first time."
He continued: "We would like to see more groups established so that many more of the thousands of people who experience tinnitus can gain benefit from others in a friendly and supportive environment. Many find that attending a tinnitus group can be an invaluable source of help and support. They can often be a lifeline to some, especially when members of their family or friends are unable to relate to their experience of tinnitus."
The BTA's work with support groups is part of its Talking Tinnitus campaign which aims to encourage people to talk about their tinnitus experience and to seek help from others who are also affected, for mutual benefit. A full list of existing tinnitus support groups can be found at http://www.tinnitus.org.uk/directory.
For more details about the information day, contact Krys Klytta at the BTA on krys(at)tinnitus(dot)org.uk or 0114 250 9933.
For information on the Big Lottery Fund please visit http://www.biglotteryfund.org.uk
Ends
Editors Notes
About the BTA
The BTA is an independent charity which supports thousands of people who experience tinnitus and advises medical professionals from across the world.
The British Tinnitus Association strives to be the primary source of support and information for people with tinnitus in the UK, thereby facilitating an improved quality of life. It aims to encourage prevention through its educational programme and to seek a cure for permanent head noise through a medical research programme.
The experienced team at the BTA understands the impact that tinnitus can have on the lives of those who experience tinnitus and those who live with them, so seeks to provides the most appropriate and expert advice and information free of charge – via a confidential freephone helpline on 0800 018 0527 and online at http://www.tinnitus.org.uk. The BTA can also post printed and audio information and advice.
Visit the BTA's Facebook page at http://www.facebook.com/BritishTinnitusAssociation and follow the BTA on Twitter at http://www.twitter.com/BritishTinnitus
About Tinnitus
Not an illness or disease, tinnitus is a term that describes the sensation of hearing a noise in the absence of an external sound. The noise can have virtually any quality. Ringing, whistling, and buzzing are common, but more complex sounds may also be reported. Troublesome tinnitus can be very distressing for the affected individual, and issues may arise with sleep, concentration and mood. However, in many cases, subtle changes in people's environment can address these issues, and improve quality of life.
For more information
Contact: Zoe Hiljemark, PR Account Director / Jenny Pearce, Senior PR Account Executive
E-mail: zoe(at)marketing-matters(dot)co.uk / jenny(at)marketing-matters(dot)co.uk
Tel: +44 (0) 1202 777111 / +44 (0) 7770 924439
Address: Marketing Matters, Unit C, Acorn Business Park, Ling Road, Poole, Dorset, UK, BH12 4NZ
###