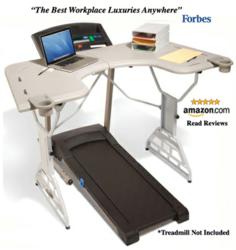 The facts are clear- we need to stay in motion most of the day for optimum health.
Scottsdale, AZ (PRWEB) August 23, 2011
Dr. Alpha Patel, senior epidemiologist at the American Cancer Society, presided over the largest study to date analyzing the impact of sitting on the risk of mortality. The study found alarming results for both men and women, however women, for reasons not yet understood, exhibited a much greater risk of premature death from sedentarism than men. TrekDesk treadmill desks offer a solution, designed specifically to allow individuals in sedentary occupations to remain active throughout the day.
The study found that women sitting more than six hours per day increased their risk of premature death by 37% and men 18% even when accounting for other risk factors such as diet, physical activity and smoking. Females who were the most sedentary and exercised the least had twice the risk of premature death to other women, while men showed a 50% increase to their more active counterparts.
"This study is similar to a 2010 Australian study which showed a significant rise in the risk of premature mortality based on sedentary behavior. However this study is unique in uncovering a potentially higher risk to the female population, it is quite alarming," stated Steve Bordley, CEO of TrekDesk treadmill desks. "The Australian study showed an 80% increased risk of heart disease among men and women, the facts are clear- we need to stay in motion most of the day for optimum health."
Designed to fit any existing treadmill, TrekDesk is an affordable, full sized workstation allowing individuals the opportunity to gain the necessary amount of exercise daily to maintain health, prevent disease, strengthen muscles, boost mood and productivity, without requiring additional time during the day or extra motivation.
Join the TrekDesk "Movement Revolution" to learn more on TrekDesk's Facebook page.
# # #