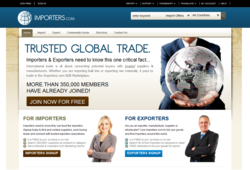 A memorable generic name like "Importers.com" creates instant trust and brand awareness
Maple Ridge, BC, Canada (PRWEB) August 24, 2011
Importers.com transformed into a thriving, 400,000 member business community that facilitates trusted global trade for international businesses
Importers.com has announced that it has released an entirely revamped B2B Marketplace for international trade. The new Importers.com will provide international businesses with a trusted alternative to industry behemoths Alibaba.com and TradeKey.com. With the global import export market growing at an unprecedented rate, there is a clear need for a trusted, North American marketplace to foster safe trading throughout the G20 economies. With 400,000 existing members, this is what the new Importers.com has been able to achieve.
With Alibaba.com currently valued at an estimated $10.8B and TradeKey.com at $2.1B, Importers.com hopes to compete by leasing Importers.com Marketing Names for the benefit of small to medium-sized businesses (SMBs). It is this unique service that differentiates Importers.com.
"A memorable generic name like "Importers.com" creates instant trust and brand awareness", says John Lyotier, Importers.com. "We are allowing members of the Importers.com B2B marketplace to leverage this trust and brand by leasing a sub-domain (Marketing Name) off of the main website; for example, a ceramic importer in the United States might lease "usa.importers.com" or "ceramic.importers.com" and use this to build out their own web presence. As we already have hundreds of these Marketing Names ranking in the Top 3 results on Google, Yahoo, and Bing, we believe we can help small businesses stand out and attract more trade leads."
Importers.com believes there are three primary barriers preventing small and medium businesses from using the Internet to conduct international trade: Building a professional looking online presence can be expensive; getting found via search engines is very hard; and trusting your trading partner is always risky. To address these problems, every registered member gets their own Trade Page to list their products and services, unique Marketing Names allow businesses to rank well in search engines and dominate a product category or geographic region, and a new Trust Certification service helps to verify that individuals are actually who they claim to be.
Existing Alibaba and TradeKey customers, as well as other SMBs that are serious about international trade, are encouraged to create a free Trade Page at http://www.Importers.com.
ABOUT IMPORTERS.COM
Importers.com is managed by Left of the Dot Media Inc .The Importers.com business has operated since 2004 and has 400,000 registered members, each of which is looking to trade internationally. Re-launched in 2011, Left of the Dot has spent the past year redeveloping the site for new owners, and the Importers.com B2B marketplace now provides unique services that help smaller businesses trade online safely and cost effectively.
ABOUT LEFT OF THE DOT MEDIA
Left of the Dot provides an alternative to domain parking and changes the way domains are monetized. The company enables leasing of sub-domains off a premium domain name to substantially increase the traffic, search engine relevance (SEO), and inherent value to the overall site—resulting in sustainable income for its clients.
Not only does the company focus on client satisfaction, the end-results of Left of the Dot's many projects also benefit the end-consumer. The company creates industry go-to destinations, aggregates quality content, and allows SMBs to get online, get found and conduct business online.
###