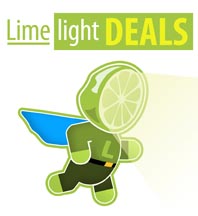 This is a unique and powerful tool for our advertisers and readers. The richly local value of Limelight Deals makes it stand out from all the other online coupons deals."
Middletown, NY (PRWEB) August 24, 2011
Hudson Valley Media Group (HVMG) a division of Dow Jones Local Media Group (DJLMG) today announced that it will launch an online deals program, Limelight Deals, which will feature savings of 50 percent or better on items and services offered by local businesses.
Hudson Valley Media Group plans to solicit deals from restaurants, spas, sports adventures, lodging, car maintenance and other ventures that have proved successful in the online coupon market.
To receive these deals, issued several times a week, readers must sign up for e-mail alerts at Limelight Deals ( http://www.limelightdeals.com ) Those who sign up before HVMG's first "live deals" in late September will be entered into a drawing to win a $500 Gift Card.
Limelight Deals will be similar to Groupon or LivingSocial: After signing up, participants will regularly receive offers by e-mail. Deals can be purchased online, and the customer takes the coupon to the retailer or restaurant where it is honored. A benefit that Limelight Deals has over those other, nationally-reaching programs is that the deals offered are truly local. Through decades of relationships with businesses, charitable organizations, Chambers of Commerce and prominent citizens, HVMG understands what their readers like to buy and what deals—and the trusted businesses offering those deals--will fit their needs. Those who sign up will find a deal they can use that day, right in their own familiar Seacoast community.
"This is a unique and powerful tool for our advertisers and readers," said Hudson Valley Media Group President and Publisher Joe Vanderhoof. "The richly local value of Limelight Deals makes it stand out from all the other online coupons deals."
Each day's deal will be offered by a local business users and readers know, featuring discounts of 50 percent to 90 percent. There will be a limited time or number of days that deals will be active. When enough participants purchase the deal that day, the deal will "tip" or become active. There will also be a maximum number of people who can get the deal. Participants can help the deal "tip" by getting friends, co-workers and family members to join in, and by doing so, earn extra rewards.
"This is not a one-size-fits-all digital product," said Vanderhoof. "After decades of serving the Hudson Valley, we have a deep understanding of the unique needs and interests of our audience. Limelight Deals positions us to provide value that national alternatives can't match."
Sean Polay is Director of Deals and Mobile within Dow Jones Local Media Group, and HVMG is one of the company's eight media groups to launch this type of product, which Polay said is a natural fit for the newspaper and media group.
"We believe we are best situated to help our local business partners reach new local customers," he said. "The advantage we have over national companies is we interact every day with both local businesses and our readers. We can facilitate connections between those two groups better than anyone. Commercial content — both advertisements and coupons touting special offers to connect local businesses with new potential customers — has long been the lifeblood of a community media company. Launching Limelight Deals is a natural next step for us, allowing us to bring a traditional business forward to a new array of media: e-mail newsletters, social media, mobile devices and more."
"We're excited about this bold initiative to extend our reach even further across the digital landscape," said Vanderhoof. "It is another big step in a growing number of initiatives that reflects our commitment to bring more readers to advertisers, and more readers to good local values."
ABOUT DOW JONES LOCAL MEDIA GROUP
Dow Jones Local Media Group (http://www.dowjoneslmg.com), operates eight community media groups around the country – including Hudson Valley Media Group – that collectively are comprised of 8 daily and 15 weekly newspapers, several lifestyle magazines and other niche publications, and a multitude of affiliated Web sites in seven states.
ABOUT DOW JONES & COMPANY
Dow Jones & Company (http://www.dowjones.com) is a News Corporation company (http://www.newscorp.com) and a leading provider of global news and business information. Its principal products include The Wall Street Journal, Dow Jones Newswires, Dow Jones Factiva, Barron's and MarketWatch. Dow Jones also provides news content to television and radio stations.
###