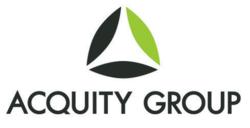 New York, NY (PRWEB) August 24, 2011
Acquity Group, a leading brand eCommerce and digital marketing company, announced today that it is opening a new office in the heart of New York City. The office will help support the increasing demand for Acquity Group's expertise in helping transform brands in today's global digital economy, and will allow Acquity Group to add to its already prestigious portfolio of New York-based clients that includes brands such as Saks Fifth Avenue, L'Oreal, MAC, MetLife and JP Morgan Chase.
The introduction of the New York office follows on the heels of Acquity Group's rapid growth both domestically and abroad with new locations in San Francisco, Seattle and Shanghai, China within the last year. With offices established in nine cities across the United States, New York City - a mecca for global brands and a hub for innovation - was the natural next step in Acquity Group's expansion.
"We have experienced remarkable growth delivering brand eCommerce solutions for clients all over the world, and are incredibly excited to open our doors in New York City," said Chris Dalton, Acquity Group CEO. "New York is a global gateway to exceptional talent and enormous opportunity, and I look forward to our East Coast team realizing its potential."
Acquity Group's innovative cross-channel brand eCommerce solutions enable some of the world's leading companies to extend their brands to new markets and digital mediums strengthening relationships with customers, prospects and vendors.
The new office expansion will be coupled with a significant investment in New York-based talent to augment Acquity Group's existing staff, whose expertise lies in design, information architecture, digital strategy planning and technology.
About Acquity Group:
Acquity Group is a leading brand eCommerce and digital marketing company, creating award-winning digital experiences for global brands. Our multi-disciplinary approach brings together strategy, design, and technology to create brand-unique experiences that build strong customer relationships. Acquity Group has its U.S. headquarters in Chicago, with offices across the U.S. To define a unique perspective for your business, contact Acquity Group at http://www.acquitygroup.com.
###