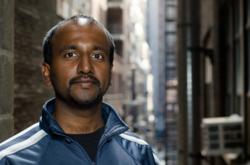 "Many industry forces are revolving around the technologies driving online identity, and it is our goal to be able to rapidly and successfully deploy PeekYou's core technology wherever it makes sense to do so," Someswaran
New York, NY (PRWEB) August 24, 2011
PeekYou, the search company that is re-indexing the public web around people's online identities, today announced industry veteran Venky Someswaran as its Chief Technical Officer.
Someswaran brings more than 13 years of technology industry experience to PeekYou, both at the startup and enterprise level. Before accepting the CTO role with PeekYou, he served in various engineering and technology management roles at Red Hat, AOL, CustomInk, and Ciena. He is a graduate of Johns Hopkins University with an MSc in computer science.
"Our company has a lot of momentum and our key challenge is to continue scaling the business, including our technology and engineering processes. Venky has successfully managed similar challenges his entire career and we're thrilled he is joining us at such an exciting time," said PeekYou CEO, Michael Hussey.
"Many industry forces are revolving around the technologies driving online identity, and it is our goal to be able to rapidly and successfully deploy PeekYou's core technology wherever it makes sense to do so. The engineering team I am inheriting is already formidable and ready to continue growing," Someswaran said.
Pavel Baranov, the company's founding Chief Technology Officer, is moving to the role of Chief Information Officer, where he will focus on hardware and software architecture challenges.
About PeekYou
PeekYou is a search company that is re-indexing the public web around people's identities, and redefining what it means to look someone up online. Rather than matching together mutually relevant URLs and keywords, as Google does, PeekYou matches any given URL to the identity of the person who created it, or whom it is about. To date, PeekYou has identified over 250 million people as the authors of over 3 billion public URLs. Over 7.5 million visitors use PeekYou's people search engine every month. As of August 21st, 2011, http://www.peekyou.com was ranked the 261st most popular website in the U.S., according to Quantcast.
PeekYou's analytics products deliver enterprise-class social audience measurement solutions. The Social Analytics API provides game-changing audience insights to better target content, engage relevant consumers, and create highly converting social initiatives for your brand. More info available at: http://analytics.peekyou.com/
###