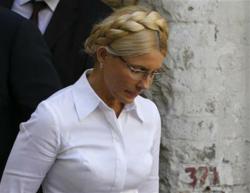 "At 5.00 am I am sitting in front of the window "in a cage'' on an iron bench, covered with an old newspaper…"

(PRWEB) August 24, 2011
"At 5.00 am I am sitting in front of the window 'in a cage' on an iron bench, covered with an old newspaper…" The former prime minister of Ukraine and opposition leader, Yulia Tymoshenko, wrote in an open letter of hope from prison, addressing millions of ordinary Ukrainians and the international community, as translated by Democracy4us.org. Although she promised an addendum would soon follow, she has since acquired a mysterious illness, the symptoms of which have included vomiting and the explosion of blood vessels across her body, and severe drowsiness. The court has refused to allow Tymoshenko's doctor to examine and diagnose her.
The heroine of the 2004 Orange Revolution was arrested on August 5 and has been held in detention ever since. Her alleged crime was exceeding her authority in 2009 when, as prime minister, she ended a damaging gas dispute with Russia that saw gas supplies cut off to many households in the European Union. Indeed, the US and Canadian governments, the European Union, along with other governments around the world, including the Russian government, have criticized the lack of proof towards this allegation and the manner in which the trial has been conducted.
Yulia Tymoshenko's letter describes conditions in the prison, saying that "the cell block is critically over-crowded." She shares a 15 square meter cell with two other women. She says the "walls of the cell block are smeared with some strange white residue from cockroaches; behind one someone is swearing loudly and vulgarly."
In her letter she praises those who protest outside the court, sleeping on the streets and even other prisoners who leave messages of support on the prison wall where she takes her exercise. Ukraine's "Iron Lady" shows a humble side saying, "Forgive me, those dear to my heart, if somewhere I did not think things through, did not work hard enough, or did something wrong. There was never a double standard in my heart and there never will be."
Today, Ukraine's most revered academic, Miroslav Popovich in an interview warned that, if the West is not to intervene in a dramatic fashion, there is what he considers to be a 50/50 chance that the country will become a dangerous, emboldened totalitarian regime. Seeing as nearly all other Soviet states have already come under one level of authoritarian rule or the other, this would implicitly mean, according to Popovich, mean the dawn of a new and much more destructive Cold War than that which politicians, including Ronald Reagan and Margaret Thatcher took so much pride in having ended for good in 1991.
Message of Hope
Mrs. Tymoshenko says there is hope for the future because the fractious opposition parties have united to support democracy in the region. She thanks her fellow democratic opposition leaders and those abroad for their support.
"We are NOT ALONE in the fight to alleviate neo-Soviet tendencies. I am thankful to the international democratic community," says the former premier whose party enthusiastically supports closer integration with the EU. "I have been moved by the strong, active, and earnest response of the world," she added.
Mrs. Tymoshenko ended the letter with a message to the Ukrainian people: "For now I am behind bars, but, with all my heart, standing beside you." Finally, she thanked those who had gathered flowers for her, "they have forbidden them to be given to me. But, I know they are there."
Notes to Editors
Yulia Tymoshenko leads the Batkivshchyna Party, a pro-European moderate centre-right party promoting free market policies but with a socially responsible agenda. It represents Ukraine's largest opposition force.
Mrs. Tymoshenko was a key leader in the 2004 Orange Revolution in which Viktor Yanukovych was the loser. In 2005 she became Ukraine's first female prime minister under President Viktor Yushchenko and served a second term as prime minister 2007-2010, narrowly losing out in the presidential election in February 2010.
Mrs. Tymoshenko's government ensured media freedoms (now under attack); raised public sector salaries and repealed over 5,000 acts to reduce government bureaucracy. It fought smuggling and corruption and enacted legislation enabling Ukraine to join the World Trade Organization. It also spearheaded Association Agreement talks with the EU and presided over Ukraine's largest transparent privatization. Her government also began to repay to citizens bank deposits lost when the Soviet Union collapsed.
Since Viktor Yanukovych became president,media censorship has returned and the security services are used to suppress dissent. This year, the democracy watchdog Freedom House downgraded Ukraine from the list of "Free" states to "Partly Free."
About Democracy4Us.Org - An independent organization, which has been formed in support of, and with the cooperation of, former Ukrainian Prime Minister Yulia Tymoshenko with a goal of efficiently spreading information as broadly as possible about the circumstances she and the Ukraine currently face.
###