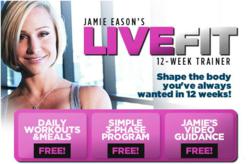 "To answer the thousands of questions I've received over the years – and to reach those of you I would never otherwise meet – I've come up with one great program: my 12-week trainer. Your transformation guide; our partnership in fitness." – Jamie Eason
Boise, ID (PRWEB) August 24, 2011
Celebrity Fitness Expert and Bodybuilding.com Spokesmodel, Jamie Eason, shows fans how to get their dream body with her much-anticipated LiveFit Trainer. This free online trainer is a simple 3-phase program for transforming your body and your life in 12 short weeks. Jamie's science-based approach combines exercise, nutrition and supplementation for results that far exceed what any of those tools could produce on their own.
This revolutionary training program is for anyone of any age, any sex and from any walk of life. It produces great results and leads to lasting success for everyone because it's a true lifestyle change – not a diet. Everyone starts from a unique place; no one has perfectly-matched genetics, metabolism, hormones or lifestyles. The beauty of this program is that people start at their own level and work at their own pace. Everyone's body is different, but with the LiveFit Trainer the same training, diet and supplement principles work for nearly everyone.
With the help of Jamie, Bodybuilding.com, the Internet's most-visited bodybuilding and fitness site and largest online retailer of nutritional supplements, provides the extra tools to make your transformation a success. From healthy recipe videos (Cinnamon Swirl Protein Bread, 3-Bean Turkey Chili, Italian Turkey Burgers, etc.) to detailed grocery shopping lists, to helpful supplement plans to fill in nutritional gaps, Jamie covers it all. Bodybuilding.com's social fitness network, BodySpace, provides the extra motivation for people to stick to their goals with the support of more than one million members.
"I always try to offer answers and encouragement, and I've received so much inspiration back in return from all of you. But, as much as I love those opportunities to help people transform, they're 1-on-1 interactions. Now, to answer the thousands of questions I've received over the years – and to reach those of you I would never otherwise meet – I've come up with one great program: my 12-week trainer. Your transformation guide; our partnership in fitness." – Jamie Eason.
To experience Jamie Eason's LiveFit Trainer and transform once and for all, please go to http://bit.ly/LiveFitJamieEason.
Bodybuilding.com offers more than 13,000 health & fitness supplements and accessories to help more than 7.5 million people every month achieve their health, fitness and appearance goals, as well as more than 35,000 pages of FREE information, including more than 20,000 articles and videos, expert online trainers, and new content added daily.
For more information: http://www.bodybuilding.com
Contact: Crystal Matthews
Email: crystal(at)bodybuilding(dot)com
Phone: 208.472.9311
###