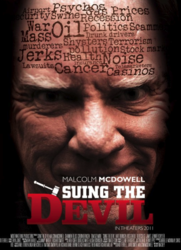 "Sorry, yes. We are totally obsessed with this movie." WIRED Magazine
New York, NY (PRWEB) August 24, 2011
Suing the Devil makes the list of WIRED Magazine's 'Top Summer Movies That Will Rock Your World'.
The film opens in select theaters nationwide on August 26, 2011. Resonating strongly with audiences of all ages across the country, potent word of mouth is already branding Suing the Devil as the 'summer film to watch'.
Critics and people alike are saying this is Malcolm McDowell's finest performance. "He plays the best devil in Hollywood history," says one critic. "Every inch, every fiber, every line is made with the cunning edge of a very sharp blade."
WIRED Magazine says, "Sorry, yes. We are totally obsessed with this movie." The film has already attracted over 10,500 fans on Facebook and was recently shown at this year's Berlin Film Festival/Market.
Suing the Devil, shot in Sydney, Australia, stars Malcolm McDowell, Corbin Bernsen, Shannen Fields, Tom Sizemore, Ros Gentle, Bart Bronson, and Rebecca St. James.
Written and directed by Tim Chey ('The Genius Club' 'Gone'), the film is turning the heads of everyone from atheists to pastors. The film turned away 1,000 people at one screening and continues to draw standing-room only crowds at publicity screenings. "One of the highest-rated Nightline episodes was whether Satan exists," says Chey, a former atheist and Harvard alumnus.
In the film, Luke O'Brien (Bart Bronsen), a washed-up janitor turned night law student, decides to sue Satan (Malcolm McDowell) for $8 trillion dollars. On the last day before Luke files a default judgment, Satan appears to defend himself. On Satan's legal team are 10 of the country's best trial lawyers (Dennis Cole, Jeff Gannon, Annie Lee). The entire world watches Legal TV (Corbin Bernsen, Tom Sizemore, Rebecca St. James) to see who will win the Trial of the Century.
CONTACT:
All prospective media interviews with Malcolm McDowell, Corbin Bernsen, Shannen Fields, the Director, etc, please call:
Mindy Woods: 310 860 7592
RR Communications
PR Representative
###