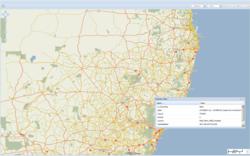 " Now motorists with compatible car navigation systems are able to receive live information on accidents, incidents and traffic congestion anywhere in Australia"
Australia (PRWEB) August 26, 2011
"Until recently car navigation systems were a closed environment, containing all the road and Points of Interest (POI) information on their local drives," says GeoSmart General Manager, Phil Allen. "Today the new trend is connected devices which can support GeoSmart's live traffic feed. GeoSmart's data is also designed to support Smartphone apps and other web applications."
"The service just launched in Australia supports the ability to view accidents and incidents in real time on a car GPS unit. It also allows nav units to calculate the delay on a trip based on traffic congestion and to offer alternate routes which may allow the motorist to get to their destination more quickly," Phil Allen said.
"We are seeing a new generation of car navigation buyers who often know their way to their destination, but don't know what is ahead that may prevent them from arriving on time. It gives them options. We have also observed a new segment of nav users in Europe, USA and more recently in New Zealand, who are buying GPS devices specifically for the live traffic services, because time is important to them."
GeoSmart, a wholly owned subsidiary of the New Zealand Automobile Association, launched real time traffic to car navigation brands in New Zealand over a year ago, using the previous generation technology RDS-TMC, which is transmitted via broadcast radio networks. Mr Allen said that this has proven very popular, however the cost of the radio tower hardware and limits to the amount of data able to be sent by this medium means that the service is limited to major cities. He also said that the bandwidth of the radio systems was insufficient to provide more complex information such as real time congestion on all roads throughout the country.
A major issue for real time traffic services, is the ability to provide high quality current information and get it to motorists anywhere in the country as quickly as possible. People do not want to be warned about incidents that have already been cleared.
Having built their first solutions in New Zealand, GeoSmart developed systems to allow it to receive quality journalistic information from a variety of official sources, validate and interpret it, confirm the locations and then be able to transmit the data to a range of car navigation brands and devices.
The congestion data is collected in a continuous stream from anonymous GPS tracked commercial vehicles throughout Australia and New Zealand. A sophisticated software environment analyses that data in order to provide information about how fast traffic is flowing on roads and highways. All of this is managed by GeoSmart's call centres 24 hours a day, seven days a week.
GeoSmart is a location based services company providing data to Car Navigation companies, Fleet Management companies, Cartography, Web Mapping for Internet and Mobile Apps, Reverse Geocoding, Business Visualisation and other tools to clients including Navman, TomTom, Yellow NZ, Wises, Air New Zealand and the NZ Automobile Association. It has clients in Australia, New Zealand, Asia Pacific and the Middle East.
###