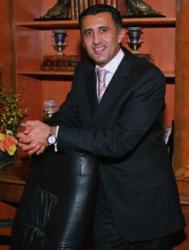 Los Angeles, California (PRWEB) August 31, 2011
Dr. Sid Solomon has recently acquired new technology that will cut waiting time for several major procedures into a fraction of what it was before. This cutting-edge piece of equipment is known as a CEREC machine, and it completely changes the way we approach crowns, veneers, inlays and onlays. Long gone are the days of coming into the office, getting numb, taking impressions, getting a temporary, and coming back again in 2 weeks for the final restoration. No more waiting for weeks while the laboratory prepares the crown or veneer. Now, you can get it all completely done in one single, comfortable visit.
What is CEREC Technology?
Thanks to new developments in dental and computer technology, Dr. Solomon can design, fit and create a high-quality crown in one visit. Here's a summary of how it works:
-The cavity area is stored as a 3D image on a powerful computer system
-CEREC software analyzes it and produces a software rendition of the restoration
-Dr. Solomon then perfects this design personally using CAD technology
-The custom design is sent digitally to an in-house milling unit which crafts the piece
Utilizing a large database of tooth designs, the software uses different methods of computing information to complete the final product. 3D imaging allows the dentist to fully recreate the area in the computer, and much like an architect designs complex structures, Dr. Solomon can perfect the piece completely digitally before it even goes for milling. Then, a computerized milling unit crafts the piece exactly to Dr. Solomon's specifications.
What does this mean for you? This means that the latest innovations and dental advances have turned a multi-day process into an approximate hour wait – all with exact, diamond-cut precision. Most dentists still use the old method, where you must come in, get numbed, get a temporary placed, go home, wait for a couple of weeks, come back and get numbed again…. This is not the case at Dr. Solomon's office, and he is pleased to announce this new service.
What Other Advantages Does a CEREC Machine Provide?
Aside from the incredible time savings, the new CEREC technology gives many other key advantages to both patient and dentist. The strength of the crown is increased heavily, as ceramic fashioned in this new, high-tech method is stronger than the hand-made variety. Crowns and Veneers fabricated in this way also blend in beautifully with the other teeth, as the precision cutting crafts the pieces specifically according to the analysis by the software. The software also uses advanced algorithms to try to replicate the former shape of the tooth. This is incredible technology as the custom formation (by hand) is more art than science. This development allows for the absolute finest, most beautiful, most natural looking, and most scientifically accurate shape.
60-minute crowns and veneers are now science-fact, not science-fiction! Dr. Solomon has chosen to bring the most cutting-edge piece of dental technology to his office, and the immense decrease in overall waiting time for dental restorations is a great benefit. Speed, precision and computer-aided crafting – all make Dr. Solomon THE BEST choice for crowns, veneers, inlays and onlays.
###