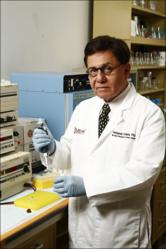 Nashville, Tenn. (PRWEB) August 24, 2011
Fernando Villalta, Ph.D. will serve as interim director of the Center for AIDS Health Disparities Research (CAHDR) at Meharry Medical College. Villalta, who began his term on August 1, is professor and chair of the Department of Microbial Pathogenesis and Immune Response. He replaces former director, James E.K. Hildreth, Ph.D., who is now serving as dean of the University of California, Davis College of Biological Sciences.
"Dr. Villalta is an accomplished researcher in infectious diseases and took a lead role in helping to establish the structure for the CAHDR at Meharry six years ago," Wayne J. Riley, M.D., MPH, MBA, MACP, President & Chief Executive Officer of Meharry Medical College said. "His leadership skills, accomplishments in research and dedication to Meharry's mission of serving the underserved make him right choice to lead the Center until a director is appointed."
A national search for a new center director will begin in the fall.
The CAHDR conducts research and other scholarly activities designed to identify, understand and eliminate factors responsible for the profoundly disproportionate burden of AIDS and HIV infection among minority populations in the United States.
Recognizing the need for a multi-disciplinary approach, to both the problem and the research necessary to eliminate the disease, the CAHDR has identified three major areas of focus: biology, behavior and community outreach.
About Fernando Villalta Ph.D.:
Fernando Villalta Ph.D. is a tenured professor of microbiology and immunology and chair of the Department of Microbiology and Immunology at Meharry Medical College.
He completed his doctorate degree in microbiology at the Federal University of Rio de Janeiro and received post-doctoral training as a research fellow in microbiology and immunology at Michigan State University.
His research interests include the understanding of molecular mechanisms of microbial immunity and pathogenic mechanisms of Trypanosoma cruzi infection, the causative agent of American Trypanosomiasis. He has done significant work in the area of gene regulation, gene and drug discovery, protein structure and function and systems biology of this pathogen and disease.
Villalta's research has been supported by the National Institutes of Health (NIH) for more than 25 years and he has led more than 60 original research papers that were published in peer-reviewed publications.
He serves on the NIH Protein Structural Biology Study Section. He has also served on national advisory committees, including serving as a member of the Vaccine and Related Biological Products Advisory Committee of the FDA.
At Meharry, Villalta serves as director of the Molecular Microbial Pathogenesis Training Program, a NIH-funded pre-doctoral training program that started in 1989. He also serves as director of the National Heart Lung and Blood Institute pre-doctoral training program.
Additionally, he teaches at the Meharry Medical College School of Medicine, Meharry Medical College School of Dentistry and the Meharry Medical College School of Graduate Studies and Research.
About Meharry Medical College:
Meharry Medical College founded in 1876, is the nation's largest private, independent historically black academic health center dedicated to educating minority and other health professionals. True to its heritage, it is a United Methodist Church affiliated institution. The College is particularly well known for its uniquely nurturing, highly effective educational programs; emerging preeminence in health disparities research; culturally sensitive, evidence-based health services and significant contribution to the diversity of the nation's health professions workforce. Diverse Issues in Higher Education's ranking of institutions annually lists Meharry as a leading national educator of African Americans with M.D. and D.D.S. degrees and Ph.D. degrees in the biomedical sciences. Visit http://www.mmc.edu to learn more.
###