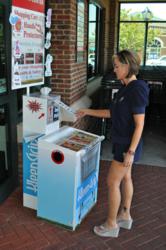 what really makes this a winning concept is the inclusion of discount coupons redeemable for in-store items on the Steri-Strip™ germ barriers. Shoppers love the concept and getting discounts at checkout is the icing on the cake
Mooresville, NC (PRWEB) August 25, 2011
KleenGrip Steri-Strip™ Shopping Cart Handle Protectors are designed to provide a germ barrier for Shopper protection combined with the added bonus of Discount Coupons for in-store products. This patented system is uniquely positioned to provide excellent branding opportunities for Product Manufacturers while satisfying the Shoppers desire to have a safe, clean cart handle.
Bill Barrett, Business Development Manager with KleenGrip says "what really makes this a winning concept is the inclusion of discount coupons redeemable for in-store items on the Steri-Strip™ germ barriers. Shoppers love the concept and getting discounts at checkout is the icing on the cake."
The way it works is the KleenGrip Steri-Strips™ kiosk is located at the Store's entry right next to the shopping carts so all the Shopper does is walk in, pull the strip out, place it on the cart handle and then shop! No more forgetting your coupons because they are in your hands the entire time you shop. When you get to checkout, just peel off the coupon (or coupons) that you want to use and the cashier scans it just like any other coupon. Simple as that! Each strip has 11-13 (depending on the handle width) different coupons and provides a sanitary germ barrier between the shopper and the cart handle.
Product Manufacturers love it because their brand is basically in the Shoppers hands the entire time they shop. Retailers love it because it drives Shoppers down aisles they didn't intend to shop, thereby increasing impulse sales opportunities. Shoppers love it because it protects them from shopping cart handle germs and in-store discounts are conveniently in their hands. A true "WIN-WIN-WIN" product!
The Strips are made of FDA approved materials, and are recyclable, sanitary and allergen free. They have a proprietary adhesive that leaves absolutely NO residue and the strips automatically release their grip and return to a "flat" state if the Shopper does not touch the handle for approximately 15 minutes, making them especially easy to remove.
Because the cost of the KleenGrip Steri-Strips™ is paid by the featured Product Manufacturers, there is no cost to the Shoppers or the Retailers. In fact, the Retailers realize a significant savings on the cost of the sanitary wipes that they have been providing to the Shoppers for free as the KleenGrip Steri-Strips™ virtually eliminate the Shoppers use of wipes. With the cost to the Product Manufacturers being less than 2c/impression, KleenGrip further drives home it's "WIN-WIN-WIN" program.
For more information on becoming a participating Retailer, or for CPG's interested in being featured on the Steri-Strip™ Coupons, contact KleenGrip and Bill Barrett at 888-965-5336, or visit http://www.kleengrip.com.
###