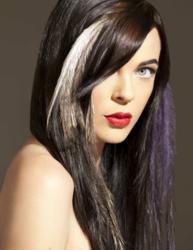 "Fashion should be fun, and no creature should have to die just for fashion's sake."
Escondido, CA (PRWEB) August 27, 2011
Air Feather Extensions, the love child of stylist Airie McCready, launches their direct sales website today. In the past the feathers were only available in certain states with certain distributors.
In many states stylists can now purchase the only cruelty free, no-kill feather extension line and know that a portion of it goes to benefit The Reeve Foundation.
"For every $30.00 in Fairie Feathers purchased," says McCready, "$1.00 will be donated to The Reeve Foundation.
McCready, who suffered a serious injury in a horseback riding accident herself years ago, was told she would never walk again. Luckily, the doctors were wrong.
That accident launched her search for a perfect hair extension system.
"Not only was I on a walker and in physical therapy for months," she says, "but as a tragic aftermath, my waist length hair had to be cut off."
McCready understands the emotion tied up in a woman's hair on many levels. She plans to launch her own hair extension system later this year.
But in the meantime, the feather craze struck the nation, and McCready, a long time animal advocate and volunteer decided to get something on the market that was cruelty free and no-kill.
The feather extension craze first pitted America against the fly fishing industry with such notables as Steven Tyler and Miley Cyrus wearing the trend.
"Lets give the fisherman a break," says Mandy Florez, CEO of Air Feathers, "these are not fishing feathers. They come from small, mostly women run farms all over the U.S. and they are not roosters!"
For more information about the Fairie Feather and the other fundraising efforts of Airie McCready and Air Feathers, please go to our press kit page or contact McCready directly.
###