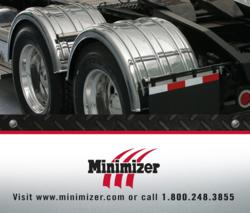 Blooming Prairie, MN (PRWEB) August 25, 2011
"I meant it when I said this was a big !#@?$# deal," says Craig Kruckeberg, Chief Visionary Officer of Minimizer. "And we meant it when we told you to get your sunglasses ready."
He wasn't kidding.
The new chrome poly fender from Minimizer got off to an impressive start at The Great American Truck Show in Dallas on Thursday, August 25. Industry representatives, distributors, vendors, end-users and the media were all on hand for the product kick-off at 1:15 p.m. And everyone was bedecked with sunglasses. Minimizer handed out 1,000 sunglasses as a part of the promotion.
The event began with an inspiring historical video about Minimizer, starting with the company's roots over 25 years ago, leading up to today with the new chrome poly fender. After the video Craig Kruckeberg took the stage, sunglasses on, and unveiled the new chrome poly fender from Minimizer.
"We finally did it. The chrome poly fender is shiny like none other, it's got the gleam of traditional chrome metal but with the Minimizer poly features, uniqueness and durability you've always depended on," Craig boasted.
The crowd was in a word, wowed.
Onlookers gathered around the many examples of the chrome poly fenders Minimizer displayed for the event. The admiration was clear as people wanted to touch and feel the shiny chrome coating and firm poly structure of the new fenders.
"What a hit!" said Steve Hansen, National Accounts Manager for Minimizer. "Everyone was so impressed with this. It's an industry changer. The shine is tremendous, the look and feel incomparable to anything else on the market. Plain and simple, it's going to beat the pants off metal. If you want the shine of metal but don't want the maintenance and potential for damage and bending that come with metal, this is your fender."
Indeed, those are the selling points Minimizer wants to promote. The shiny look of metal on a chrome poly fender combined with the unique advantages of Minimizer fenders: no painting, no fading, no rust and no cracks.
Minimizer chrome poly fenders are now available via Minimizer's international distribution network. To order Minimizer chrome poly fenders find a distributor by clicking here.
Minimizer fenders will enhance the performance of all makes and models of over the road trucks, construction vehicles, or agriculture equipment. Enhance and protect your vehicle with Minimizer products. The toughness is unmatched as seen on this Minimizer promotional video entitled "Tested & Tortured."
For more information or to contact a dealer, call us at (800) 248-3855 or visit our website or email us at info(at)minimizer(dot)com.
About Minimizer
Headquartered in Blooming Prairie, Minnesota, USA, Minimizer manufactures poly truck fenders, poly toolboxes, customized mud flaps, and bracket kits. Family owned and operated for nearly three generations, Minimizer parent company Spray Control Systems, Inc., was founded in 1983. Minimizer aims to provide products tough enough to please tough people in a tough industry. For more information call (800) 248-3855 or visit http://www.minimizer.com.
###