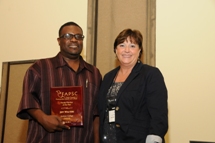 "Jeff Walter's day doesn't begin and end with his classes. This man cares and it shows."

--FAPSC Executive Director Kathy Mizereck
Orlando, Fla. (PRWEB) August 25, 2011
Jeff Walters, an instructor for Anthem College-Orlando, received top honors from the Florida Association of Postsecondary Schools and Colleges (FAPSC), which named him Faculty Member of the Year.
Walters teaches in Anthem College's Basic X-ray Machine Operator and X-Ray Technician programs.
"Jeff Walter's day doesn't begin and end with his classes," says Kathy Mizereck, executive director of FAPSC. "This man cares and it shows. He goes the extra mile."
"He has assisted a student with funeral arrangements for his mother. He identified vision impairment in a student and helped obtain funds to pay for glasses. He works late to tutor. He has a consistent retention record of more than ninety percent of his students."
Anthem College-Orlando offers hands-on training in several healthcare fields and in Computer Networking & Security. In addition to the Basic X-ray Machine Operator and X-Ray Technician program, it also offers education and training in Dental Assistant, Medical Assistant, Medical Billing & Coding, Pharmacy Technician, and Surgical Technologist. Programs prepare students to compete for entry-level positions in their chosen fields.
FAPSC is a statewide organization that represents more than 200 career-oriented schools. It works on behalf of all of Florida's degree-granting and non-granting career schools and colleges. FAPSC members are licensed by the state and educate and prepare more than 379,000 students each year for employment in more than 200 occupational fields.
About Anthem College-Orlando
Originally established in 1998, Anthem College-Orlando is part of Anthem Education Group (AEG), a Phoenix, Arizona-based family of schools and colleges that provides career-focused training and education programs at 23 accredited institutions in 15 states as well as online. The AEG family of schools includes Anthem College, Anthem College Online, Anthem Career College, Anthem Institute, Morrison University, and The Bryman School of Arizona. For more information, visit http://anthem.edu.
For more information about our graduation rates, the median debt of students who completed the program, and other important information, please visit our website at http://www.anthem.edu/disclosures.
# # #