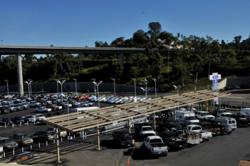 "The GREEN initiative taken by MBMI goes beyond the webpage descriptions," MBMI engineer, Ian Strompf
Delray Beach, FL (PRWEB) August 25, 2011
MBMI Metal Buildings, supplier of pre-engineered metal buildings and accessories, is thrilled to announce the launch of its newly re-designed green building webpage: http://www.MBMISteelBuildings.com/green-buildings.
The new green initiative webpage focuses on the money saving features of eco-friendly steel buildings. MBMI stresses the natural green qualities of steel construction, which save building owners up to 40% on annual energy costs and reduce construction and operating expenses. The green webpage also covers the ways MBMI in-house engineers help building- and home- owners earn tax-credits by utilizing green-building techniques and alternative energy sources.
Keynotes of MBMI Metal Building's Green Initiatives:
•Recycled Materials
All materials that contain up to 60% total recycled matter. The recycled materials used by MBMI are engineered to meet the same strength, durability, and quality standards as any other steel building material. In fact, steel can be recycled an infinite number of times without losing its strength or quality. MBMI building owners save landfill space and reduce the need to mine limited resources to produce steel.

Energy Star Rated Metal Panels with 40yr warranty
MBMI's metal roofs, panels, and trims are available cool Energy Star rated colors that can reduce energy expenses by 40%. For instance, Cool White has a high reflectivity of 0.75 that deflects solar radiation (sunshine) away from the building and an emissivity of 0.86 that minimizes the heat from the sun from being transferred into the building. All colored panels from MBMI come with an industry leading 40-year warranty.
Tax credits are available to homeowners for up to 10% of the cost of upgrading to an energy efficient metal roof.

Several options are available to metal building owners who want a solar energy system. MBMI engineers specialize in seamlessly integrating solar systems into buildings during the design phase for easy construction. Buildings can be engineered to hold heavy, more traditional, solar panels or designed with solar laminate systems pre-installed on the metal panels. Homeowners are eligible for a 30% tax credit for the cost of installing a solar energy system on primary and/or secondary homes.
"The Green initiative taken by MBMI goes beyond the webpage descriptions," states MBMI engineer, Ian Strompf. "Truth be told, both the up-front and long-term cost savings of our buildings begin with the high-quality of our materials and the superior design and engineering techniques that we employ. It can be the little things, like the angle of a roof or the quality and precision of a seal that greatly reduce the construction, maintenance, and upkeep expenses of a metal building."
MBMI invites you to please feel free to visit its new Green Initiative Page. For more green building tips & steel building construction info follow the MBMI Facebook page.
For a free quote on a steel building visit http://mbmisteelbuildings.com/metal-building-quote or call toll free 1-800-293-2097
###