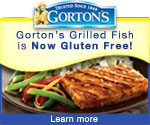 "Gorton's Seafood is proud to offer a wide variety of delicious, gluten free Grilled Fish selections which are expertly flame-grilled and seasoned for a great taste."
Gloucester, MA (PRWEB) August 25, 2011
Gorton's Seafood has announced that its Grilled line of fish is now gluten free, with a variety of flavors and grilled fish species including Grilled Salmon, Grilled Tilapia, All Natural Grilled Fillets made from Alaska Pollock, and Grilled Haddock. Each fillet is expertly flame-grilled and seasoned, with the same taste millions have come to know and love, but with the added assurance that they are now gluten free. Procedures have been implemented at the production location to avoid the risk of cross-contamination, and there is ongoing monitoring and testing to ensure that Gorton's Grilled Fish is gluten free.
An estimated 1 in 133 people in the United States are living with celiac disease. And while the absence of gluten in the diet of a person with celiac's disease alleviates uncomfortable symptoms, it is often difficult to find gluten free products that are satisfying and taste good.
"We understand that gluten free diets can be very challenging for consumers who suffer from celiac disease or the spectrum of gluten intolerance. Even beyond consumers with strict medical conditions, gluten free diets are growing in popularity. But the choices of meal solutions that are not only gluten free, but also tasty and convenient, are still fairly limited," stated Zach Soolman, Director of Consumer Marketing. "We are proud to offer a wide variety of delicious, gluten free Grilled Fish selections which are an excellent source of lean protein and are expertly flame-grilled and seasoned for a great taste."
In addition to announcing their gluten free line of Grilled Fish, Gorton's has created several new gluten free recipe ideas that are available on their website. Gorton's feels this is another great way to help consumers embrace the USDA's Dietary Guidelines to eat seafood twice a week.
To promote their gluten free Grilled Fish, Gorton's is also giving away 100 subscriptions to Living Without magazine, the leading title serving the gluten free market. This is a great tool for those living with celiac disease or those with gluten intolerance. For more information on Gorton's gluten free Grilled Fish and to enter to win a year's subscription to Living Without, please visit: http://www.gortons.com/glutenfree.htm.
Gorton's is also offering downloadable coupons at http://www.gortons.com and a free digital newsletter that provides monthly recipes and coupon offers. In addition, Gorton's Seafood is now on Facebook http://www.facebook.com/gortonsseafood and Twitter http://twitter.com/#!/gortonsseafood, where consumers may connect with the brand in social media and be the first to hear about news, contest announcements and special promotions.
About Gorton's Seafood
Founded in 1849, Gorton's is one of America's oldest continuously operating companies. Headquartered in Gloucester, Massachusetts, Gorton's continues to be the innovative leader in the seafood industry. Gorton's full line of frozen seafood products includes Breaded and Battered Fish Sticks and Fillets, Grilled Fillets including Tilapia and Salmon, Premium Fillets, Grilled Shrimp, Flavored Fillets, Tenders, and Popcorn Shrimp. Gorton's products are available nationwide in better independent and chain grocery stores. Gorton's proudly stands behind its products with its "Trust the Fisherman Guarantee," which represents an unwavering commitment for over 150 years to providing the best-tasting, highest quality seafood meals. The Gorton's Fisherman, in his yellow slicker and rain hat, has become an icon symbolizing this commitment. For more information, please visit http://www.gortons.com or call 1-800-222-6846.
###