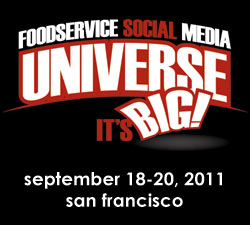 San Francisco, CA (PRWEB) August 26, 2011
Social technology and interactive media expert, Jeremiah Owyang, headlines a strong lineup of more than 50 presenters and panelists for Foodservice Social Media Universe (FSMU) at Hotel Kabuki in downtown San Francisco on Sept. 18-20.
FSMU is a conference for restaurant industry professionals where they learn how to successfully integrate social media into their marketing and operations. Many major brands will participate, including Cracker Barrel, Firehouse Subs, LivingSocial, McAlister's Deli, Red Robin, and Taco Bell. They'll get to hear Owyang's opening keynote on how to develop a social business strategy for foodservice.
Owyang is an influential thought leader on web strategy, interactive marketing, and social technologies. He is a Partner at Altimeter Group and the author of the popular blog "Web Strategy," which focuses on how corporations connect with their customers using web technologies. The "Web Strategy" blog is rated as the "Top Industry" analyst blog by Edelman since 2008. Prior to joining Altimeter Group, Owyang was a Senior Analyst at Forrester Research.
Altogether, Foodservice Social Media Universe will feature four keynotes and 15 breakout sessions with more than 50 presenters and panelists, including:

Michael Atkinson, Founder/CEO, FohBoh, Inc.
Paul Barron, Founder, Digital CoCo
Avery Block, Social Engagement & Brand Champion, Taco Bell Corp.
Tom Hanson, COO, Pacific Catch
Annica Kreider, Vice President of Marketing, McAlister's Corp.
Ron Parikh, CMO, Genghis Grill
Tim Schroder, Vice President of Marketing, Which Wich?
Nicole Walls, Vice President of Marketing, Cracker Barrel
Breakout session topics include:
Social Media Within Your Organization – Getting the C-Suite Activated
Leveraging Facebook for Your Brand
Understanding the Twittersphere
Location-Based Services: A Universal Snap Shot
Rewarding Brand Loyalty: The Evolution of Guest Satisfaction
Monitoring Your Social Sphere
Daily Deals in Practical Terms
Building a Social Media Policy
Social Media for Recruiting
The full agenda for FSMU is available at fsmu.fohboh.com. Attendees may also register through the FSMU website.
Foodservice Social Media Universe is presented jointly by FohBoh, Inc. and NetWorld Alliance, publisher of restaurant media sites FastCasual.com, QSRweb.com and PizzaMarketplace.com. FohBoh provides social business products and service solutions to the $1.2 trillion foodservice industry.
###