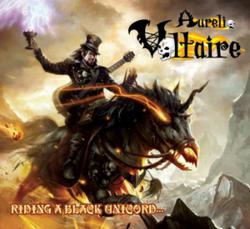 New York, N.Y. (PRWEB) August 26, 2011
"Riding a Black Unicorn Down the Side of an Erupting Volcano While Drinking from a Chalice Filled with the Laughter of Small Children" is Voltaire's latest full-length outing released on his Mars Needs Music imprint on September 6, 2011. This ninth album features a host of celebrated alternative players, including: David J (Bauhaus, Love & Rockets), Brian Viglione (Dresden Dolls), Melora Creager (Rasputina), Franz Nicolay (The World/Inferno Friendship Society, Guignol), Hannah Thiem (Copal, Nyxss) and The Red Hook Ramblers. The stunning cover art was created by legendary fantasy artist, Daarken; best known for his World of Warcraft, Warhammer, and Magic the Gathering illustrations.
Voltaire (Aurelio Voltaire Hernandez) is often described as a modern day renaissance man of the macabre. He is a singer/performer, animator, author, comic book writer, and toy creator. As a musician, Voltaire's music can best be described as a collection of murder ballads, tongue-in-cheek exercises in the ghoulish and spooky, with just enough bawdy songs about Star Trek and Star Wars to keep a convention audience rolling in the aisles. "Riding a Black Unicorn…" (a title taken from a description of Voltaire's music by an earnest fan), is a bewitching assortment of nine songs ranging from the exalted title track; to the hilarious "Dirtiest Song That Ain't" sing-a-long; to the steampunk whimsy of "Mechanical Girl"; to the haunting proclamations of "Innocent".
Voltaire is an established on-camera expert on alternative, horror, goth and steampunk lifestyles. He has appeared on the macabre hit TV show, "Oddities", as well on the SyFy Channel, Fox News, Bravo, and MTV. A computer-animated Voltaire has also led several special Friday the 13th campaigns on the 16 million-user massively multiplayer online role-playing game, AdventureQuest Worlds. He also authored the popular gothic lifestyle guidebooks, "What is Goth?" and "Paint It Black".
Furthering his reputation for artistic over-achievement, Voltaire has also just hit the indie film festival circuit with, "Odokuro", the fifth installment in his other worldly, award-winning stop-motion animation, "Chimerascope Series" narrated by New Wave legend, Gary Numan. His prior films were narrated by Debbie Harry (Blondie), Richard Butler (Psychedelic Furs), Gerard Way (My Chemical Romance), and Danny Elfman (Oingo Boingo).
Voltaire has performed to tens of thousands allover North America and Europe over the past fifteen plus years. He has headlined at such venues as: CBGBs (New York), The Vic (Chicago), The Trocadero (Philadelphia), and The Showbox (Seattle); as well as sell out shows at Dragoncon; playing before 4,000+ for the three nights in a row! This fall, Voltaire embarks on a five-week nationwide tour that promises to be a full-on bawdy cabaret with This Way to the Egress, The Hellblinki Sextet, and local burlesque talent.
Voltaire's "The Black Unicorn Cabaret Tour" with This Way to the Egress & The Hellblinki Sextet
Weds., September 21 - New Haven, Conn. at Rudy's
Thurs., September 22 - Manchester, N.H. at Milly's Tavern
Fri., September 23 - Portland, Me. at Asylum
Sat., September 24 - Providence, R.I. at Club Remi's
Sun., September 25 - Ithaca, N.Y. at The Haunt
Mon., September 26 - Pittsburgh, Pa. at The Rex Theatre
Weds., September 28 - Charlotte, N.C. at The Milestone
Thurs., September 29 - Atlanta, Ga. at The Masquerade
Fri., September 30 - Savannah, Ga. at Yong's
Sat., October 1 - Jacksonville, Fl. at The Factory
Mon., October 3 - Austin, Tx. at Elysium
Thurs., October 6 - Scottsdale, Ariz. at Martini Ranch
Fri., October 7 - San Diego, Calif. at Queen Bee's Art & Cultural Center
Sat., October 8 - Los Angeles, Calif. (TBA)
Sun., October 9 - San Francisco, Calilf. at Stud Bar
Tues., October 11 - Portland, Ore. at The Fez Ballroom
Weds., October 12 - Seattle, Wash. at El Corazon
Fri., October 14 - Salt Lake City, Ut. at Area 51
Sun., October 16 - St. Louis, Mo. at Crack Fox
Mon., October 17 - Nashville, Tenn. at The Rutledge
Tues., October 18 - Kansas City, Mo. at The Beaumont Club
Weds., October 19 – Indianapolis, Ind. at Birdy's
Thurs., October 20 - Columbus, Ohio at The Shrunken Head
Fri., October 21 - Milwaukee, Wis. at Club Anything
Sat., October 22 - Flint, Mich. at The Masonic Temple of Flint
Sun., October 23 - Philadelphia, Pa. at The Starlight Ballroom
To listen to excerpts from Voltaire's "Riding A Black Unicorn…" please visit:
http://voltaire.net/riding_a_black_unicorn
For more information on Voltaire, please visit:
http://www.Voltaire.net
http://www.youtube.com/voltairenyc
http://www.facebook.com/VoltaireFanPage
###