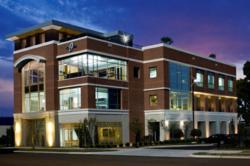 With our green facility designed especially for executing our business model, including employee focused amenities, you add our proprietary technology plus our dedicated staff and Flores is well-positioned to continue growing in 2012 and beyond
Charlotte, NC (PRWEB) August 27, 2011
While operating from its new LEED Silver Certified Green headquarters, Flores & Associates has continued to add new staff to support its growing client base of national employers. Flores demonstrates professional momentum as evidenced by the continuing educational efforts of the staff. During 2011, Flores employees have worked to earn designations for Group Benefits Associates (GBA), Certified in Flexible Compensation (CFC), Flexible Compensation Specialist (FCS) and Certified COBRA Administrators.
With a long-standing reputation for superior quality the Flores "E-status" system communicates important account details for participants in reimbursement plans such as flexible spending accounts. "Participants stay informed. Our reimbursement plans result in delighted employers and enthusiastic participants", says Clay Peddycord GBA, CFC, Director of Quality Assurance.
The dedicated account managers and proprietary technology work together to deliver a high-tech and high-touch experience. Flores is often introduced to employers by their insurance brokers. Brokers come to know Flores quality and make sure their clients get to know Flores. "Operating in a continuous training environment, we focus on developing new talent well in advance of new clients coming on board", says Lisa Poliseno CFC, Client Services Manager.
"With our green facility designed especially for executing our business model, including employee focused amenities, you add our proprietary technology plus our dedicated staff and Flores is well-positioned to continue growing in 2012 and beyond. Soon we will unveil a new company website at http://www.flores-associates.com and we have just released a convenient mobile application that will benefit smart phone users", says, Mario J. Flores, Jr., Founder/President.
About Flores & Associates:
Founded in 1986, Flores serves over 500 employer clients in 33 states as a national reimbursement plan administrator for flexible spending accounts, health reimbursement arrangements, commuter benefits, and direct reimbursements for dental and vision plans. Flores provides COBRA administration services and retiree billing services for its clients.
###