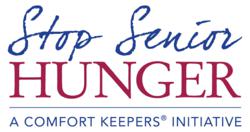 We see many seniors in and out of poverty who are experiencing hunger and malnutrition. Family involvement is a first step to help identifying roadblocks and getting seniors the healthy food they need.
Dayton, OH (PRWEB) August 26, 2011
A grassroots effort is spreading across the nation to raise awareness for the signs of senior hunger and malnutrition and to collect food for seniors in need. Local Comfort Keepers offices, a leading provider of in-home care to seniors, are working in their communities to help slow the trend that is predicted to afflict more than 11 percent of America's senior population by 2025. In fact, 1 in 9 seniors is currently at risk for hunger – a staggering 5 million older Americans.
More than 140 Comfort Keepers franchised locations are holding "STOP Senior Hunger" food drives and educational events now through December (Editor: See attached list of participating territories). Over the last 3 years, the network has collected more than 50,000 lbs. of food for seniors in need. With more franchised locations and territories participating each year, Comfort Keepers expects to double that in 2011.
Comfort Keepers offices in Kansas City, MO will hold a benefit concert to help raise awareness and collect food for senior hunger. Get Your Swing on and Jazz it up for Senior Hunger will feature local jazz bands, food, and fun. Proceeds benefit Harvesters Community Food Network.
In Lubbock, TX the Comfort Keepers office is organizing a protest with other organizations to protest senior hunger. Picket signs about senior hunger and chants will fill the sidewalk in front of their local food bank.
In Sarasota, FL, franchise owner, Michael Jones, is partnering with over a dozen local businesses to help raise awareness and collect 3,000 pounds of food. Nutritional seminars for families and caregivers will also be available. "We cannot fight every factor affecting hunger, but we can start here in our community by creating awareness about the issue and helping family members become more aware of the signs of hunger and malnutrition," adds Jones. "This senior nutrition campaign aims to help seniors preserve their independence by providing diet and nutrition information, encouragement and necessities."
To help families know how to look for the signs of malnutrition in their aging loved ones, Comfort Keepers has created a simple mnemonic, WATCH:
Watch for physical problems. Look for bruising, dental difficulties, or sudden or sustained weight gain or weight loss.
Ask seniors about their eating habits. How have their tastes or preferences changed?
Talk to a doctor. Discuss nutritional needs or problems specific to the loved ones' unique needs or management of diseases.
Check with a pharmacist. They can warn you of the potential for drug-food interactions.
Have your visits during mealtime. This is the best time to observe eating habits first-hand.
"We see so many seniors in and out of poverty who are experiencing hunger and malnutrition, and we want to help change that," said Jim Booth, CEO of CK Franchising, Inc., the franchisor of Comfort Keepers. "Families' involvement and understanding is a first step to help identifying roadblocks and get seniors the healthy food they need."
For information about STOP Senior Hunger visit http://www.stopseniorhunger.com.
About Comfort Keepers®
Comfort Keepers® is a leading franchise network in the in-home care market for senior and other adults needing care. Since its founding in 1998, the company has grown to more than 600 franchised locations around the world by staying true to the founders' goal of providing in-home care services that allow clients the opportunity to age in place. In August of 2009, the brand was strengthened even further by the purchase of the franchisor, CK Franchising, Inc., by Sodexo, one of the world's leading food and facilities management services companies and the global leader in the health care and seniors markets. For more information, visit http://www.comfortkeepers.com.
###