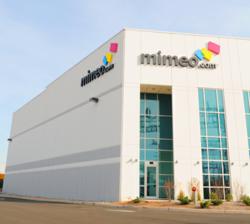 "It's vital to the success of the print industry that all participants understand the importance of data to justify the use of print in marketing and communications programs
New York, NY (PRWEB) August 26, 2011
Mimeo, the leading online printing and distribution solutions company, announced today that Charlie Corr, Vice President of Corporate Strategy, will be presenting at Graph Expo 2011 in Chicago in a session titled "How Printers Can Use Data to Adapt and Grow."
Corr, a frequent keynote speaker and thought leader in the print solutions industry, will review best practices for how market research requirements are defined, how data is collected, then analyzed and turned into actionable business strategies. He will demonstrate how data driven insights have contributed to the success of Mimeo, a digital print solutions company that has been named to the Inc. 5000 list of fastest growing private companies in North America for each of the last seven years. He will be appearing with Andrew Gordon, Vice President of Sales, Marketing and Business Development at 48HourPrint.
"Market research and business intelligence are critical inputs to any strategic planning process," said Charlie Corr, Mimeo Vice President of Corporate Strategy. "This is particularly the case in the print solutions industry where the combination of a turbulent economy and rapid technological change mandates that organizations quickly identify and adapt to changing market conditions."
Prior to joining Mimeo, Corr was a Group Director for Infotrends, a leading market research and strategic consulting firm for the document solutions industry. At Infotrends, he has consulted with companies such as Canon, Hewlett Packard, IBM, Kodak, Ricoh and Xerox, as well as organizations with challenging print requirements such as the IRS, General Mills and the Department of Defense.
"Both 48HourPrint and Mimeo are like minded in our use of data to drive business results," said Corr. "It's vital to the success of our industry that all participants understand the importance of data to not only improve the effectiveness of corporate decision making, but in justifying the use of print in marketing and communications programs executed by our customers."
The session will be held on September 11 at 11:00 a.m., in Booth 3457 as part of the Graph Expo 2011 Conference and Exposition at the McCormick Center in Chicago. For more information visit graphexpo.com.
About Mimeo.com
Mimeo.com is the innovator of online, on-demand cloud printing services. Over 4,000 companies rely on Mimeo's award winning document management tools and print on demand solutions to lower document related costs while improving employee productivity. The company was founded in 1998 and operates digital print facilities in both the U.S. and the U.K. Investors include Draper Fisher Jurvetson, DFJ Gotham, Goldman Sachs (GS) Harbourvest and Hewlett Packard (HP). For additional information on Mimeo, visit http://www.mimeo.com or call 1.800.466.4636.
###