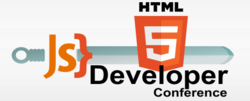 San Francisco, Calif. (PRWEB) August 29, 2011
Silicon Valley International Game Developers Association is today announcing the world's first-ever HTML5 developer conference. The conference, which will take place on September 27 at the Westin Hotel in San Francisco, will bring together thought leaders from the HTML5, JavaScript and mobile developer communities.
Sibblingz, developer of the HTML5-compatible Spaceport game engine, is the platinum sponsor of the event. The company's founder, Ben Savage, will also be the keynote speaker, addressing the future of HTML5 gaming.
Other speakers include a keynote by Doug Crockford, renowned JavaScript expert and author of "JavaScript: The Good Parts," creator of JSLInt and developer of JSON, and Josh Elman, the former platform product manager at Facebook and Twitter as well as several speakers from the Google Chrome team and game engine libraries, Microsoft, Joe Montasero Co-founder and vice president of business development for appMobi and Peter Relan CEO of Crowdstar and YouWeb.
"HTML5 is the most important topic this year, as mobile platforms go through explosive growth," said Ann Burkett, chair of SV IGDA and conference organizer. "As developers look for ways to accelerate the adoption of HTML5, it became obvious that Silicon Valley needed to kick off this conference."
"I'm excited to see the new HTML5 Dev Conf in San Francisco cover the developer interest in HTML5," said Peter Lubbers, co-author of 'Pro HTML5 Programming.' JavaScript and Games- make no mistake about it, this is the technology of the future for both the web and mobile."
The conference will bring together game and app developers looking to move to HTML5 and JavaScript as they become the new industry standard. Topics will include development tools, deployment models on mobile platforms, and performance measurement.
"Games are the single most popular application on mobile devices and HTML5 is the emerging development platform there," said Savage. "We believe Spaceport brings a practical development environment and deployment model for high-performance HTML5 game development and operations."
The conference will have morning and afternoon sessions. The morning sessions will consist of keynotes on JavaScript, HTML5 applications HTML5 gaming. The afternoon sessions will have parallel technical and hands-on tracks about HTML5, JavaScript and HTML5 gaming along with a few higher-level strategic business outlook panels.
Tickets to the conference will be available at html5devconf.com. Participants are encouraged to sign-up early.
About the conference:
What: HTML5 Developer Conference
When: Tuesday, September 27.
Time: 9:30 a.m. – 6:00 p.m.
Where: Westin Hotel- 50 3rd Street, San Francisco, CA
About Sibblingz:
Sibblingz is a YouWeb incubated social games technology firm with offices in Burlingame, California. The company offers the first game engine made for the multi-device world enabling developers to take advantage of the massive growth in PC and mobile social game adoption. The Sibblingz platform gives developers the ability to build a social game that plays across all devices including uninterrupted and synchronous game play. Games built on Sibblingz, enable consumers to play a specific game and continue the experience across the most popular PC platform such as Facebook as well mobile platforms including Google's Android and Apple's iDevices.
Contact:
Ann Burkett
Conference Organizer and Chair SV IGDA
ann(at)svigda(dot)org
415 513 8701
Ken Johnston
VSCpr on behalf of the HTML5 Game Developer Conference
ken(at)vscpr(dot)com
415-677-9125 x 206
###